NAPHL, FPT in Colorado for the first time for third event
November 11, 2016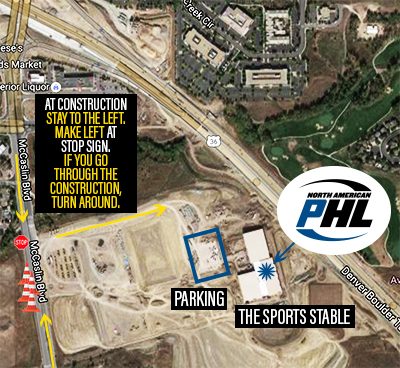 The 2016-17 North American Prospects Hockey League (NAPHL) regular season resumes this weekend, with its third event of the year taking place from November 11-13 at the Sports Stable at Superior the Ice Centre at the Promenade, both of which are north of dowtown Denver, Colorado. All 18U and 16U NAPHL teams will compete at the event.
In addition, several teams outside the NAPHL will be participating in the second Future Prospect Tournament event of the 2016-17 season, which features guest teams at the 14U level.
Important note: For teams playing at the Sports Stable, please see important instructions on how to get there via the map on the right.
All NAPHL games at the event will be broadcast live over the Internet through
HockeyTV
.
Fans can find rosters for the event using the
NAHL App
(
iOS
-
Google Play
)
There promises to be some great action at this event with several of the top teams in the standings facing off against one another in both divisions.