NAPHL players make most of NAHL experience in Corpus Christi
October 20, 2016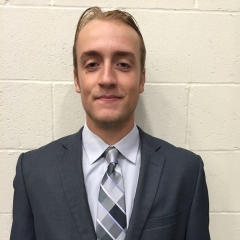 By Collin Schuck, Corpus Christi IceRays
Players and billet families share a special bond, even in a short time.
A recent recruiting trip brought three prospective players to Corpus Christi for some experience in the NAHL, one of whom stayed in the home of Paul and Patty Elkins. Paul, who is recently retired, and Patty, known around the IceRays as a bold, strong personality, opened their doors to the young recruit for a weeklong trip around the IceRays' opening weekend. The Elkins family is recently newer billet parents who had their first yearlong player, Tobias Kircher, last season.
After the player ventured home on Sunday morning, Patty noticed something he had left behind in the spare bedroom.
"It was just laying on the bed pillow after he made up the room real nice," said Patty.
It was a yellow card with "THANK YOU" written in big, colorful letters and font. In the card were a $50 bill and a handwritten note. It said:
"Elkins Family,
Thank you so much for letting me stay with you this past week. It really means a lot to me that you allowed me to chase my dreams by staying at your house. It's because of families like you that allow kids like me to succeed in hockey. I had an amazing time this week and hope to be back soon and maybe be able to play.
Thanks,
Justin Meers
Go IceRays!"
Patty read the note and cried.
"It just made me feel really good that he felt that comfortable and to be able to give him a chance. That's all these guys need."
The recruiting trip was the first time that Justin Meers strayed away from his St. Louis home for hockey even at 18 years old. He, along with teammates Christian Dahl and Andy Willis from the St. Louis Selects in the North American Prospects Hockey League (NAPHL), spent a full week with the IceRays last week to practice, train and shadow the team while also giving a look for the coaching staff ahead of the 2017-18 season. The experience is twofold, both as a way to learn how to improve but also a taste of the North American Hockey League (NAHL) lifestyle.
With that comes an introduction to new people, new places, and a new home, and Meers is undoubtedly grateful for the last portion.
"They gave me a room to stay and helped me chase my dream of playing in the league," said Meers. "You can't really ask a stranger to do that. They won't always offer their house to someone they don't know. That alone was enough."
One of the unique aspects of playing junior hockey is placement into a host family, referred to as billets. These local community members offer to allow a player to enter their lives and stay with them throughout their duration on the team, whether it lasts a week or multiple seasons. The relationship grows to a point where players become one of the children, and the billet families become an extension of the athlete's own family members. Transitioning to a new home can be difficult for anyone from ages 17 to 20, but the generosity displayed by families like the Elkins goes a long way to making the junior hockey experience easier and more enjoyable.
Meers admits the tentativeness on his part during his first couple days that soon disappeared.
"At first, it was a little weird because I was in a stranger's home," said Meers. "You don't know each other at all. But they were really welcoming and made me feel part of the family. It was easy to adjust to."
Between practicing and training with the IceRays, meetings with coaches, community appearances and seeing live games, Meers and the Elkins spent the rest of their time with each other at dinner, around the house, and just in every day interactions. As the week wore on, Meers began to connect with the family and integrate well with their lifestyle and the Corpus Christi community.
He spoke with his parents and decided to write a note and leave some money as gratitude for lending their home and the experience he had with the Elkins.
"It was planned, but I didn't think it would take off to the organization. It was just something I thought she would like."
Among the impressed in the IceRays organization was Head Coach Brad Flynn, who saw his actions with the team on the ice throughout the week but now sees a different side to the recruit.
"Justin is an example of the type of player we look for and what we want on the IceRays," said IceRays Head Coach Brad Flynn, who worked with Justin during his weeklong stay. "It speaks volumes to the man he is and the character he shows as well as the staff and the organization of the St. Louis Selects."
For now, Meers continues his hockey pursuit in St. Louis, and the Elkins continue to be staunch supporters of the IceRays and wait for the next opportunity to help a player succeed by opening their doors. There's no telling what's in his forecast, but if Meers does return to Corpus Christi, he'll be welcomed back into the Elkins household with open arms with that $50 bill waiting for him on his bed pillow right where he left it.
A little kindness can go a long way. For Meers, the feeling is mutual.
"I'd be happy to go back and stay there. They really did a lot for me, and they made me feel like part of the family."