NAPHL announces Apex Learning Peak Performers for September
October 4, 2016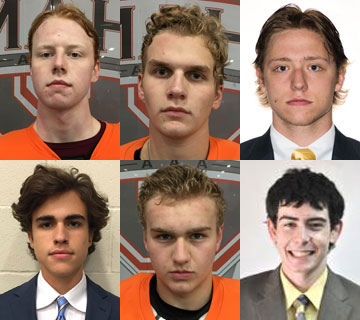 The North American Prospects Hockey League (NAPHL) announced its Apex Learning Virtual School Peak Performers for the month of September. The players were selected based upon their performance at the first NAPHL event of the season, which took place at the NAHL Showcase at the Schwan Super Rink in Blaine, Minnesota from September 22-25, 2016.
18U Apex Peak Performer (Offense) – Brendan Sheehan, Omaha AAA
Rookie forward Brendan Sheehan made his presence known in his NAPHL debut, scoring 4 goals and 5 assists through 4 games. The 6'2/200 lbs 18-year-old collected a 4-game point streak in his first games in 18U, including the game-winning goal in Omaha's final contest of the event. In addition to his offensive efforts, the St. Croix Falls, Wisconsin native added up 29 PIMs. Head Coach David Wilkie commented on the performance by saying, "Brendan Sheehan is an outstanding addition to our team. He is a big , strong power forward who can also shoot the puck a ton. He had a great weekend in Blaine and we certainly hope he continues that quality of play for our team this season."
#2 Star: Andy Willis, St. Louis Selects
#3 Star: Tyronne Bronte, Meijer AAA
18U Apex Peak Performer (Defense) – Garrett Anderson, Omaha AAA
Omaha's 17-year-old Garrett Anderson found himself on the score sheet with 2 goals and 6 assists in 5 games played at the first NAPHL Showcase of the season. The 6'2/205 lbs defenseman hails from Elkhorn, Nebraska. "Garrett Anderson is a veteran in our hockey club," said Head Coach David Wilkie. "He is a great player who can log a lot of minutes and play in every situation while also being a complete 2 way defenseman. He is a captain and one of our very best leaders on and of the ice."
#2 Star: Calvon Boots, Rocky Mountain RoughRiders
#3 Star: Dawson Plott, HC Dallas
18U Apex Peak Performer (Goaltender) – Zach Kinard, Valley Forge Minutemen
Kinard collected all W's at his first NAPHL Showcase event for 2016-17, walking away with 3 wins that included one shutout performance. The 5'10/ 170lbs rookie goaltender posted a .944 SV% in 153 minutes of play, making 68 total saves. The York, PA native saw his best game against Shattuck-St. Mary's on Saturday, were he stopped all 33 shots to collect his shutout. Head Coach Sean Cannon noted Kinard's performance by saying, "Zach is a highly skilled goalie who does not lack confidence. Zach thrives to be the best at his craft, and aspires to be the best every time he hits the ice."
#2 Star: George McBey, HC Dallas
#3 Star: Liam Murray, Meijer AAA
16U Apex Peak Performer (Offense) – Joe Winkelmann, St. Louis Selects
St. Louis' rookie Joe Winkelmann opened up his 2016-17 NAPHL season with a 12-point performance, netting 5 goals and 7 assists in 5 games. "I was very excited by Joe's performance in Blaine," said Head Coach Jack Behan. "It was a great reward for his hard work this off season. Joe was terrific all weekend - which is a continuation of what he's accomplished in our early season so far."The 16-year-old grabbed one game-winning goal and two power play tallies for the Selects in his debut. Winkelmann, a 5'10/162 lbs forward, hails from St. Louis, Missouri.
#2 Star: Joey McIntyre, HC Dallas
#3 Star: Sam Renlund, Omaha AAA
16U Apex Peak Performer (Defense) – Coltan Wilkie, Omaha AAA
16U veteran Coltan Wilkie picked up right where he left off in NAPHL play, continuing his offensive contributions for Omaha AAA from the blue line. The 16-year-old defenseman collected 13 total points (1 goal, 12 assists) in his first four games of the 2016-17 season. The 5'9/175 lbs from Omaha, Nebraska helps his team go undefeated (5 wins) while in Blaine. Head Coach David Wilkie noted the defenseman's efforts by saying, "Coltan Wilkie is an outstanding member of our U16 team. He plays a ton of minutes, and give his all through every situation during the game. He is a great defender and skater who has tremendous puck skills and smarts on the ice. He is a captain and very important piece of the Omaha U16 team this year."
#2 Star: Nikolai Jenson, Omaha AAA
#3 Star: Jonathon Lambos, Omaha AAA
16U Apex Peak Performer (Goaltender) – Hunter Adams, HC Dallas
HC Dallas returner Hunter Adams secured a perfect slate during the NAPHL Showcase in Blaine, grabbing 3 wins that included 2 shutouts. The 6'3/ 165lbs goaltender collected 57 saves in 153 minutes of action, posting a .936 SV%. A native of Arlington, Texas, Adams held his ground for a 1.00 GAA through 3 games. Head Coach Jon Klemm noted his performance by saying, "I'm very pleased with the way Hunter played this past weekend in Blaine. His preparation was outstanding, when your goalie plays with the confidence and poise that Hunter did, it rubs off on the rest of the team. Our team played extremely well in front of him, but when there was a break down, Hunter made the big save. That's what you ask of your goalie...give us a chance to win. Hunter definitely did that this past weekend."
#2 Star: Adam Ulan, Esmark Stars
#3 Star: Dmitri Kochan, Madison Capitols
The NAPHL is comprised of five regular-season events leading up to its Championship Tournament Series in which the top teams in each division compete for a league championship. The second NAPHL event of the 2016-17 season will be the 2016 NAPHL Showcase and Future Prospects Tournament, which will take place from October 21-24, 2016 at the Schwan Super Rink in Blaine, Minnesota.
With more than 100 online high school courses and 20 years of experience, Apex Learning Virtual School offers players the opportunity to be both successful academically and available for practice and travel. Rigorous curriculum and the support of expert online teachers provide a strong academic foundation. The flexibility to complete online course work when and where it is convenient means school can fit with player's hockey commitments. Enrollment options include full time to earn a diploma and individual courses to fulfill specific requirements. For players wanting to qualify for Division I and Division III college teams, courses approved by the National Collegiate Athletic Association (NCAA) are offered.