Knights defenseman Campolieto makes NCAA DI commitment
September 28, 2016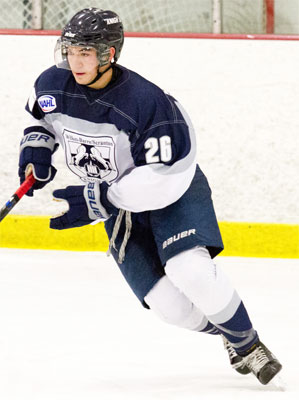 The Wilkes-Barre/Scranton Knights, proud members of the North American Hockey League (NAHL) are please to announce that defenseman Joseph Campolieto has committed to play NCAA Division I hockey at Union College starting in the 2018-19 season. The long-time member of the Knights organization is the first Knights player to commit during the 2016-17 NAHL regular season. He joins forward Aiden Beck as the second division one commit on the Knights current roster.
"I visited Union twice in April and May," he said. "I just fell in love with the size of the campus, the academics and of course the hockey. They won the national championship in 2014. I just thought Union was a perfect fit for me.
As mentioned, the Union Dutchmen defeated the Minnesota Golden Gophers 7-4 in the 2014 NCAA Division I National Championship. They've produced alumni like Philadelphia Flyers phenom defenseman Shayne Gostisbehere, Calgary Flames forward Josh Jooris, and New Jersey Devils goalie Keith Kinkaid among many others. In Campolieto Union is getting a dynamic defenseman.
"I am an offensive defenseman," he said when asked to describe his game. "I have good-skating ability, high hockey-IQ, I see the ice very well. I just try to make plays and play solid in the defensive zone."
That skating ability is what really pops when watching Campolieto on film. It's not uncommon to see him lead a rush into the offensive zone. Last week, at the NAHL's annual player showcase, he flashed his speed on a penalty kill, breaking up a pass at center ice before taking it back the other way for a shorthanded, breakaway goal.
"I've worked really hard since a very young age, skating non-stop. I want to thank Besa Tsintsadze. He's helped me improve a lot. I've skated with him and he's coached me since I was little."
Tsintsadze is a former competitive figure skater from the country of Georgia. Since his retirement he's come to coach hockey players the art of power skating, working with both the Pittsburgh Penguins and Boston Bruins. He now focuses on developing young hockey players like Campolieto in their ability to skate.
After playing 21 games in the NAHL last year, Campolieto has enjoyed a strong start to 2016-2017, leading the Knights in points with one goal and six assists through eight games. Campolieto also played for the Knights 18U team in the NAPHL during the 2015-16 season.
"I've known and coached Joeseph for many years," said Knights head coach Tom Kowal. "His improvement is evident. Yes, he's an impressive skater, but he's come a long way in developing the other elements of his game. He's a tireless worker. At the end of the day he's got a bright future. He's been an asset for us at multiple levels of the organization and that continues to this day. I'm happy to have him on my team, and I'm excited to see him grow. It's been a privilege coaching Joseph over the past couple year. I'm excited to have helped him reach his goals both on and off the ice. "
In addition to adding a blend of offense and speed to the team's defensive corps, Campolieto is one of the Knight's leaders. The veteran blue-liner is not about to lose focus on his current season.
"I just want to keep working hard, keep getting better every day. I want to stay focused so that I'm able to do everything I can to help make this team better."
Without a doubt, the team is happy to have him. As an organization, the Knights congratulate Joe on his commitment and continue to wish him the best of luck in his current and future endeavors.