NAHL Showcase just two months away
July 21, 2016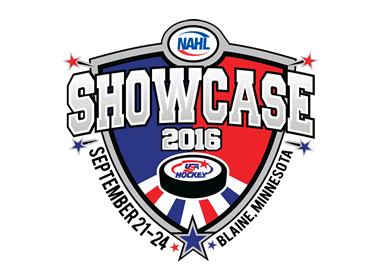 Plans for the 14th annual NAHL Showcase are in full swing. The NAHL Showcase Tournament begins two months from today and anticipation for the event is already underway.
All 24 NAHL teams will play four regular-season games at the Showcase, which is considered into one of hockey's most prominent and popular events of the entire season. The event will be held from September 21-24, 2016 at the Schwan Super Rink in Blaine, Minnesota.
The NAHL Showcase Tournament attracts over 9,000 people in overall attendance, including more than 350 professional, college and junior scouts. For scouting purposes, the NAHL Showcase is the premier event of its kind and is a yearly gathering for every NCAA program and NHL team as they get their first look at some of the best and brightest hockey talent North America has to offer.
Scout Passes for the 2016 NAHL Showcase will go on sale on Monday, August 1st and will be available for purchase online at the NAHL Showcase wesbite. For more information on the NAHL Showcase including schedule, scout passes, ticket prices, hotels, rental cars and arena information, visit
nahl.com/showcase
A 2016 NAHL Showcase schedule is expected to be released in the near future.
All 48 NAHL Showcase games will be broadcast live through
FASTHockey,
the official broadcast provider of the NAHL.
The Schwan Super Rink is the largest ice arena of its kind in the world. The state-of-the-art facility, a $21 million project totaling over 300,000 square feet, features eight sheets of ice under one roof. With all its varied amenities and services, the Schwan Super Rink is absolutely unique in the world of ice sport facilities.
It will be the first event of the season for the NAPHL, which will also be played in conjunction with the Showcase. Now entering its eighth season, the NAPHL is made up of 46 teams. 18 Midget Major (18U) and 18 Midget Minor (16U) teams will compete at the NAHL Showcase from September 22-25.
The event will also feature eight additional teams from the Upper Midwest High School Elite League (UMHSEL) and 12 teams from the Tier I High Performance Hockey League (HPHL). A total of 94 teams are expected at the event.
This marks the fifth straight Showcase in which the NAHL has partnered with the Upper Midwest High School Elite League. At the Showcase, the Elite League will feature eight total teams. It also marks the second straight Showcase that the NAHL has partnered with the High Performance Hockey League. The partnerships between the NAHL and the Elite League and the HPHL further enhances the Showcase since all see numerous players commit to NCAA programs each season.