GONGSHOW and NAHL celebrate six years of partnership
July 12, 2016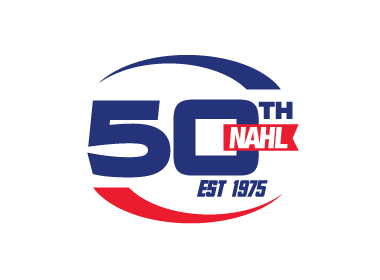 The North American Hockey League (NAHL) is pleased to announce that they have renewed their partnership with GONGSHOW Gear Inc. (GONGSHOW) to continue on as the Exclusive Lifestyle Hockey Apparel of the NAHL for the 2016-17 season. This marks the sixth straight season that the NAHL and GONGSHOW have partnered together. As part of the agreement, GONGSHOW will continue as the sponsor of the NAHL TV platform on the NAHL website at
www.nahl.com
GONGSHOW will continue exclusive sponsor of the popular Flow of the Month promotion exclusively on the NAHL and GONGSHOW Twitter sites
@NAHLHockey
and
@GONGSHOWGEAR
. Fans and players alike are encouraged to submit photos of their best 'hockey hair' or 'flow' via Twitter and at the each of every month during the regular season, one fan and one player winner will be recognized on NAHL.com. During the month of November, GONGSHOW and the NAHL will team up for their 'Movember' campaign, as NAHL coaches, staff and players will support Men's health and cancer awareness by growing beards and mustaches. GONGSHOW will be providing the prize pack to the team that raises the most funds.
"GONGSHOW is a global lifestyle brand that every hockey player under our umbrella can identify with. We feel as a partner for the past five years, our partnership has helped make an impact in the way hockey players actively live and dress. It is a company that everyone playing in our leagues knows and shares a common popularity," said Alex Kyrias, Director of Communications and Sales for the North American Hockey League. "The Flow of the Month campaign continues to set trends and is one of our most popular on social media and we will strive to develop even more exciting initiatives together."
With a target demographic of 13-25, GONGSHOW has leveraged social media platform likes Snapchat Twitter, Facebook, Instagram and YouTube to reach a wider audience and ultimately, grow the brand. That includes all players in leagues like the NAHL, as well as, the NA3HL and NAPHL.
"As social media has grown, it deserves a big part of our marketing efforts, and as a result, we spend a large amount of time on it and always looking for innovative ways to leverage and continue to be leaders," said Troy Duncan the Director of Sales at GONGSHOW. "A big part of what we do and reason we exist is to get our gear on as many hockey players as possible to help grow the game of hockey and getting more people into hockey through the lifestyle. A big part of our goal at GONGSHOW is to grow the game worldwide."
In addition to the partnership with the NAHL, NA3HL and NAPHL, GONGSHOW has recently has become an official licensee of USA Hockey with a co-branded apparel line being launched this holiday season. GONGSHOW is also riding an increased wave of popularity thanks to their new Saucer King game. The game was new to the market and offered an opportunity hockey players and fans to play a new game on the beach, at the cottage, tailgating or just by yourself to practice trick shots. It was followed it up with an award winning app that had over 500,000 downloads since its release – carving its place in hockey's pop culture history. With GONGSHOW's large fan base, the requests started to roll in – the market wanted a PHYSICAL version of the Saucer King Game to play and take with them so they could sauce pucks anywhere, anytime just like the app! The game is now for sale worldwide and our goal is to spread the hockey lifestyle through our apparel and this game.
Headquartered in Ottawa, Ontario, Canada - GONGSHOW is recognized as the hockey good industry's premier manufacturer of innovative, high quality, fashionable and trend setting clothing apparel for hockey athletes of all ages and abilities. Since introducing the first Lifestyle Hockey Apparel hat to hockey players in 2002, and pioneering a new retail category within hockey stores, Gongshow has constantly pushed the envelope in the evolution of hockey lifestyle and continues to influence the game in a positive manner around the world. The brand is worn by hundreds of NHL Players off the ice, which has helped further fuel its growth as the apparel of choice for hockey players of all ages and skill levels. Visit GONGSHOW online at:
www.gongshowgear.com