Woods just happy to be at development camp
July 11, 2016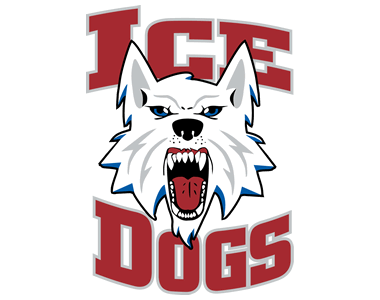 By Scott Billeck, Winnipeg Free Press
NAHL and NAPHL alum Justin Woods couldn't believe it. It had to be a mistake.
Like most 20-year-olds, he felt more or less invincible. The big defenseman had just finished his sophomore year at the University of Alaska-Fairbanks.
A cyst on his knee had become uncomfortable in his freshman year, causing it to swell up and other "weird stuff." He decided to have it removed, giving him enough time to recover before accepting an invitation to the Winnipeg Jets 2014 development camp.
But on May 7, 2014, two days after he wrote his last exam, Woods was diagnosed with Ewing's sarcoma, a one-in-a-million bone-cancer diagnosis; roughly 250 Americans hear the same awful news each year.
Two surgeries, a month of radiation and chemotherapy — five days in a row every six weeks for 10 months — followed.
The silver lining, and what kept him positive early on, was the cancer was caught early, giving him anywhere between a 50 to 75 per cent chance of a successful recovery after the treatments in Seattle.
"My mom helped me the most. She'd get me up and out of my room when I didn't want to do anything," said Woods, still dripping sweat from Monday morning's fitness and endurance testing at the Jets development camp. "I'd feel sad and sorry for myself but I was fortunate enough to have a ton of family and friends come down and visit me."
Now 22, he looks back on his many blessings. His size — he's 6-2 and north of 200 pounds — is the ideal build for a defenseman, reminiscent of superstars such as Drew Doughty and Duncan Keith. He's a left-handed shot, a trait National Hockey League teams covet. And he possesses the intangibles scouts and general managers alike long for — a character guy who works hard and doesn't fear the dirty areas of the ice.
Woods played in the NAPHL for the California Titans 18U team during the 2010-11 season and then the following season, played in the NAHL for the Fairbanks Ice Dogs during the 2011-12 season, which included an appearance at the 2012 NAHL Top Prospects Tournament.
Woods says he's still shocked by the support he received during his darkest days. He gets emotional while recalling the NHL teams and college and professional players who reached out to him on Twitter and by other means. One was Providence College player Drew Brown, diagnosed the same week with the same rare form of cancer.
"We talked," Woods said. "I called his family and our parents talked to each other, talking about what we were both going through.