Let's Roll! Robertson Cup begins Thursday
May 12, 2016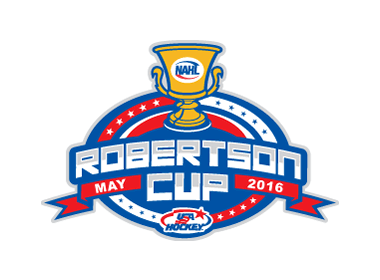 The 2016 NAHL Robertson Cup Championship begins Thursday will take place from May 12-15 at the Braemar Ice Arena in Edina, Minnesota. The Robertson Cup crowns the NAHL's National Champion.
A total of 21 players (or roughly 25% of those participating in the event) are from the state of Minnesota.
The field and four teams who will be participating in the Robertson Cup is set. All four of the divisional champions from the 2015-16 regular season also won their respective divisional playoff titles. Now that the four teams have been determined, teams were seeded 1-4 based upon their finish in the NAHL regular-season standings. The seeding for the event is as follows:
#1 Fairbanks Ice Dogs (Midwest Division champions)
#2 Wichita Falls Wildcats (South Division champions)
#3 Bismarck Bobcats (Central Division champions)
#4 Aston Rebels (East Division champions)
All games of the NAHL Robertson Cup Championship will be broadcast in High-Definition by
FASTHockey
The 2016 NAHL Robertson Cup Schedule (Best of 3 semi-final series, all times Central):
Thursday, May 12th: Game 1, #1 Fairbanks vs. #4 Aston, 4:30pm; Game 1, #2 Wichita Falls vs. #3 Bismarck, 7:30pm
Friday, May 13th: Game 2, #1 Fairbanks vs. #4 Aston, 4:30pm; Game 1, #2 Wichita Falls vs. #3 Bismarck, 7:30pm
Saturday, May 14th: Game 3, #1 Fairbanks vs. #4 Aston, 3:00pm*; Game 1, #2 Wichita Falls vs. #3 Bismarck, 6:00pm*
*if necessary
Sunday, May 15th: Robertson Cup National Championship Game, 1:00pm
In conjunction with the Robertson Cup Championship Tournament, the North American Prospects Hockey League (NAPHL) will showcase their 2016 Top Prospects Tournament, featuring 80 players from the 18U Division competing in four games each. In addition, the NAHL will be hosting its fourth and final Future Prospects Combine during the event.
For more information on the Robertson Cup Championship Tournament, including schedule, ticket information, hotels, rental cars and other event information, visit
http://nahl.com/robertson-cup/
Tickets for the event are available at the door and are $40 for a Tournament pass (all games) or $15 for a daily pass (all games that day). Children ages 8-18 and Groups of 10 or more are $10 for a daily pass and kids 8 and under are free. All seating is general admission.
Scouts: Scout packets admission for all four days of the event will be complimentary for all NHL and NCAA scouts. Scout packets will be available for purchase for all other non-NAHL junior scouts for $50 (cash, check or credit card accepted) for the entire event. Day passes are also available for $30. Scout passes include entrance to the scout room, where food and beverages will be provided, along with line charts, statistics and event programs.
The oldest junior hockey trophy in the United States, the Robertson Cup is named in honor of Chuck Robertson, a pioneer of junior hockey in the NAHL and youth hockey in the state of Michigan. Robertson was the owner of the Paddock Pools team when it won a record seven straight NAHL championships from 1976-83.