Shreveport Mudbugs accepted into the NAHL for the 2016-17 season
April 8, 2016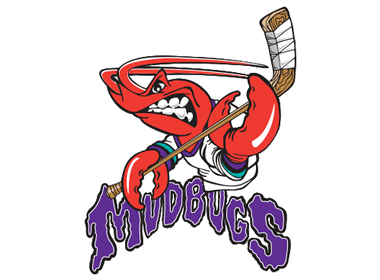 The North American Hockey League (NAHL) has announced that its Board of Governors has approved the activation of the Shreveport (Louisiana) Mudbugs membership, who will begin play during the 2016-17 season as a part of the NAHL's South Division.
Tommy Scott of Encompass Sports Management owns the Mudbugs. Scott, who was the owner of the Mudbugs when it ceased operations in the 'AA' professional Central Hockey League in 2011, has signed a 12-year lease (plus a pair of five-year options) with the State Fair of Louisiana for use of the Hirsch Coliseum. The team will be the first to call the state of Louisiana home in the 40-year history of the NAHL.
The Shreveport Mudbugs will begin play in the fall of 2016 and operations are getting underway, including season ticket sales. Scott Muscutt, an original Mudbug player and longtime head coach of the professional team, will move into the role of General Manager and Director of Operations with the NAHL team. "This is a quality of life WIN for everyone in this area. As a hockey guy I am excited, as a parent I am ecstatic! This is the best thing to happen to hockey in the area in 10 years," Muscutt said. A search for a head coach is currently underway.
"Shreveport is a great fit for the NAHL," said Mark Frankenfeld, Commissioner and President of the NAHL. "They fit into the Southern footprint and the markets fits the fabric of a NAHL community-based model. They have a great tradition of success both on and off the ice and I am excited to see how they perform in the years to come."
The Hirsch Coliseum will not only house the Mudbugs, but youth hockey programs in the area as well. To get ready for the Mudbugs playing in the NAHL, the Hirsch Coliseum underwent a $1.5 million upgrade. With the renovations to the Hirsch, the seating capacity was trimmed from 7,000 to about 4,000 and the Mudbugs have a personal season license (PSL) option, ice-level suites and season tickets as cheap at $10 per game. In addition to the suites, renovations to the Hirsch now include new bathrooms, revamped concessions and new seats.
From 1997 to 2001, the Bossier-Shreveport Mudbugs were members of the Western Professional Hockey League, until a 2001 merger between the WPHL with the Central Hockey League. From 2001-2011, the Bossier-Shreveport Mudbugs played in the CHL. In their final year of operation back during the 2010-11 season, the team won the CHL Championship.