Fairbanks forward Coomes makes NCAA DI commitment
December 18, 2015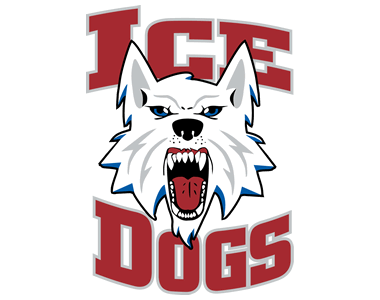 By Danny Martin, News-Miner
Logan Coomes was sold on Merrimack College after the Fairbanks Ice Dogs left wing made his campus visit last weekend in North Andover, Massachusetts.
Coomes, part of an Ice Dogs forward line that comprises the leading scorers in the North American Hockey League, verbally committed on Thursday to nationally ranked Merrimack, a member of the NCAA Division I Hockey East conference.
Coomes, a 19-year-old from Northville, Michigan, drew attention from several D-I programs, including Western Michigan and Colorado College of the National Collegiate Hockey Conference and Massachusetts Lowell, also of Hockey East.
The 5-foot-11, 185-pound left wing made his final decision after a visit on Saturday and Sunday to the Merrimack campus, located about 25 miles north of Boston. Coomes and the Ice Dogs also were in Pittston, Pennsylvania for a NAHL series against the Wilkes-Barre/Scranton Knights.
"The campus was great, the rink was great, the location of the school was awesome," Coomes, by cellphone on Thursday night, said of Merrimack.
He was impressed, too, with the Warriors hockey program, which is 6-4-5 overall and ranked 20th in this week's U.S. College Hockey Online (USCHO.com) poll of Division I teams.
"The hockey atmosphere is tremendous," Coomes said. "They pack the rink for games and from what I've heard, it's electric in there.
"It should be a fun four years,'' he added.
Coomes said that Warriors head coach Mark Dennehy told him he'll be given an opportunity to contribute as a freshman.
"He has a vision and believes in me. He gave me a great opportunity and I'm going to put it to use," Coomes said.
"They want me to be a skill guy and come in and have an impact on the team right away,'' he added. "I've got to work really hard to get that position. Nothing's given, you've got to work for it."
Coomes has worked to help the Ice Dogs lead the NAHL's Midwest Division at 21-4-3 for 45 points, the second-best record this season in the 22-team, Tier II Junior A league.
He and linemates Todd Burgess (center) and Ryner Gorowsky comprise the top three scorers in the NAHL. Coomes ranks second with 14 goals and 27 assists for 41 points in 27 games, while Burgess is first with a 20-30-50 scoring line in 28 games and Gorowsky is third with 18-22-40 totals in 27 contests.
Merrimack's coaches told Ice Dogs head coach Trevor Stewart that they were impressed with Coomes's skill set.
"They did their research. They watched him a couple of times and kept track of him," Stewart said Thursday by cellphone. "It seems like a good fit for them and most importantly, a good fit for Logan.
"When he's going, he's a threat to score," Stewart added. "He's a very skilled player that has improved steadily throughout the course of the season. We look for him, closing out the first half and starting the second half of the season, to continue along the lines of his current production."