Former NAPHL defenseman Clarke named earns NAHL monthly honor
December 3, 2015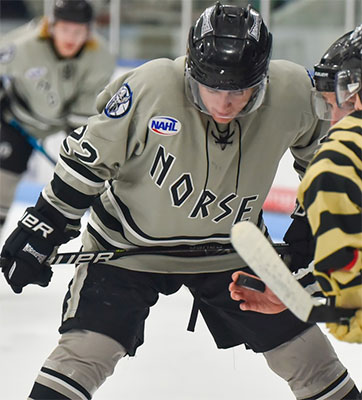 Former NAPHL and current Lone Star Brahmas defenseman Cameron Clarke was named as the NAHL's Defenseman of the Month for November.
Lone Star Brahmas defenseman and Ferris State University recruit Cameron Clarke, 19, had a big month of November as he led the Brahmas in scoring during the month from the blueline with nine points in seven games played as the Brahmas posted a 6-1-1 record to remain one of the top teams in the NAHL. Clarke (6'2/180) had two goals and seven assists and was a +1 during the month.
The native of Tecumseh, Michigan, had points in six of the seven games he played in during the month and had three multi-point games. His 16 points currently ranks tied for 4th in scoring for all NAHL defensemen.
Prior to playing in the NAHL, Clarke played during the 2013-14 season in the NAPHL for the West Michigan Hounds (now Meijer AAA Hockey). During that season, he recorded 22 points in 24 games from the blueline and was named to the 2013-14 All-NAPHL 18U 2nd Team.
"Cam has a huge offensive upside, which allows him to be a complete defenseman. He jumps into the play to give an advantage with a four-man rush up the ice and he can get shots through from the point," said Lone Star head coach Dan Wildfong. 'He is a very good 200-foot player, which tells us that he is taking care if things equally at both ends of the ice. He is working on being a complete player so by the time he does go to Ferris State, he will be a guy that can make an immediate impact."
"I think our coaches have put a great system in place for playing solid team defense and that gives us a great chance to be successful on a game-by-game basis. We have a great team, so it makes it all the easier to make decisions and create offensive opportunities," said Clarke. "My goals are to get myself ready to play in the NCAA. I have to be solid defensively, first and foremost. That will lead into more offensive opportunities as time goes on, but being a solid defenseman is something I will want to try and improve every game leading up to the next phase of my hockey career."