18U Division wraps up event in Aston
November 16, 2015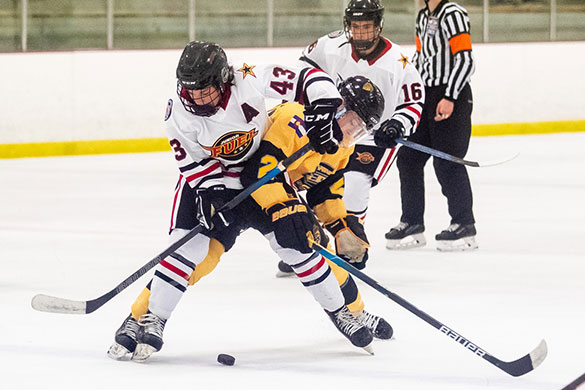 The third NAPHL event of the season at the Iceworks Skating Complex in Aston, PA has entered the final day, which saw the completion of the 18U Division in the morning and the 16U Division in the afternoon.
A nice scouting presence of various scouts had checked in including those from NAHL Central Scouting, ISS Hockey, various NAHL teams, along with some NCAA schools.
On Saturday afternoon, Director of Player Personnel Craig Barnett held two different round table discussions with NAPHL parents that provided them important information in regards to NCAA compliance and the college and junior hockey landscape.
In regards to the action on ice, the games have been very competitive as the halfway mark of the NAPHL regular season came and went this weekend.
Here is a look at how the 18U teams have fared to date (a 16U wrap-up will be posted on Tuesday):
Madison Capitols (1st place): The Capitols stayed in 1st place in the 18U Division with a 4-0-1 record while in Aston. They posted wins over Arizona, Thunder Bay, Rocky Mountain and New Jersey, while their one blemish was a shootout loss to Esmark. Kevin led the team with nine points in the five games.
Omaha AAA (2nd place): A point behind Madison is Omaha, who went 4-1 at the event in Aston. After an opening loss to Washington, Omaha defeated Arizona, Pursuit of Excellence, Meijer and the Valley Forge Minutemen. Forward Jordan Fader led the team with eight points in the five games.
Wilkes-Barre/Scranton (3rd place): The Knights went 4-1 at the event, despite only scoring 10 goals in the five games. The Knights lost their opening game to New Jersey, but then picked up wins over Wenatchee, Washington, Valley Forge and Esmark. Goalie Grant Ciaramella was the star, posting two shutouts and going 3-0.
Rocky Mountain Roughriders (4th place): The Roughriders had a rough go of it in Aston, posting a 2-3-0 record. Forward RJ Harland led the team with five points in the five games, which included wins over Thunder Bay and San Diego and losses against Meijer, Valley Forge and Madison.
Meijer AAA (5th place tie): Meijer went 3-2 in Aston and sit just a point out of 4th place. Wins came against Pikes Peak, Valley Forge and Rocky Mountain, while losses were to California and Omaha. Forward Caleb Hite, who leads the team with 17 points, had four points during the event.
Esmark Stars (5th place tie): The Stars did themselves some good and moved up in the standings thanks to a 3-1-1 record. Esmark allowed just eight goals at the event with wins over Madison, California and Wenatchee, a shootout loss to Long Island and a 1-0 loss to the WBS Knights. Forward Tanner Orr had five points in the five games.
Philadelphia Little Flyers (7th place tie): The Little Flyers went 3-2 at the event in their home arena with wins over California, Thunder Bay and HC Dallas. Losses were to Long Island and the Pursuit of Excellence in the opening two games. Forward Alex Syring had eight points in the five games.
Washington Little Capitals (7th place tie): The Little Caps stayed in the playoff hunt and helped their cause with a 3-1-1 record in Aston. Forward Ryan Leibold had nine points in the five games. Wins came against San Diego, HC Dallas and Omaha, while they lost in a shootout to Wilkes-Barre/Scranton and had a regulation loss against Wenatchee.
Pursuit of Excellence (7th place tie): Also in the playoff hunt is Pursuit of Excellence (POE), who went 3-2 in Aston. Forward Ty Pochipinski had seven points in five games and goalie Jordan Wilde had 107 saves in four starts. Wins came against HC Dallas, Pikes Peak and Philadelphia, while losses were against St. Louis and Omaha.
Pikes Peak Miners (10th place): In the 10th and final playoff spot for now is Pikes Peak, who went 2-3 at the latest event. The Miners were paced by forward Vlad Zhidkikh, who had six points with wins over San Diego and St. Louis, but losses against Meijer, Pursuit of Excellence and New Jersey.
St. Louis Selects (11th place): The Selects helped their playoff hopes and sit just two points out of the final spot with a 4-1 record in Aston. Goalie Kevin Johnson posted a perfect 3-0 record, making 67 saves. Wins came against Pursuit of Excellence, New Jersey, HC Dallas and Long Island, with the lone loss coming against Pikes Peak.
Thunder Bay Kings (12th place): A point behind St. Louis sits Thunder Bay, who struggled at the event with a 1-4 record. Offense was hard to come by for the Kings who scored just seven goals in losses to HC Dallas, Madison, Philadelphia and Rocky Mountain, with the lone win being against Arizona. Defenseman Jay Wojciechowski had four points.
California Titans (13th place tie): Four points out of a playoff spot sits the Titans, who went 2-3 in Aston with wins over San Diego and Meijer and losses against New Jersey, Philadelphia and Esmark. Forward Connor Chilton had six points at the event and leads the 18U Division with 29 points.
Wenatchee Wolves (13th place tie): The Wolves still aren't out of it, as they posted a 2-3 record in Aston with wins over Arizona and Washington and losses against Long Island, Wilkes-Barre/Scranton and Esmarck. The Wolves got three points from forward Richie Stickle, but scored just six goals in the five games.
New Jersey Jr. Titans (13th place tie): The Titans helped their cause with a 3-2 record in Aston and sit four points out of the final playoff spot. Wins came against California, Pikes Peak and Wilkes-Barre/Scranton, while losses were to Madison and St. Louis. The Titans gave up just 10 goals thanks to goalies Colin Cain and Colin Burgess.
Arizona Bobcats (16th place tie): The Bobcats are now behind the 8-ball as they failed to get a win in Aston, going 0-4-1. Their lone point came in a shootout loss to Thunder Bay, while other losses were to Wenatchee, San Diego, Omaha and Madison. Forward Tony Cimato had two of the team's four goals at the event.
HC Dallas (16th place tie): HC Dallas went 1-3-1 in Aston, picking up three points. They picked up a shutout win over Thunder Bay and had a shootout loss against POE. Regulation losses were to St. Louis, Rocky Mountain and Washington. Forward Michael Shippee had four points and goalie Hunter Smith stopped 90 of 95 shots in three starts.
San Diego Jr. Gulls (18th place): San Diego picked up their second win of the season in Aston and posted a 1-4- record. The win came over Arizona, while losses were to Washington, Pikes Peak, Rocky Mountain and California. Defenseman Josh Morrison had five points, including three goals in the five games.