Return of the Gulls helps youth hockey in San Diego
October 26, 2015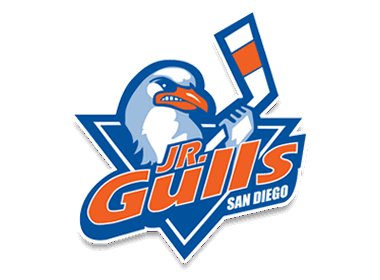 By Greg Ball, Rubber Magazine
When Nick Ritchie scored a power-play goal 15 minutes into the first period of the San Diego Gulls' season-opener on Oct. 10, it not only marked a new beginning for professional hockey in America's Finest City, but also sent positive reverberations to rinks from Escondido to Mid-City and everywhere in between.
Ritchie's goal - which helped jumpstart San Diego to a 4-2 victory over the Grand Rapids Griffins - was the first in history for the reborn Gulls, the American Hockey League franchise that relocated last from Norfolk, Va., and brought professional hockey back to San Diego for the first time since 2006.
The region had supported professional hockey going back to the 1940s, but never had seen the game played in its backyard at such a high level - and the excitement inside Valley View Casino Center was palpable.
Among the nearly 13,000 fans in the sold-out arena were thousands of youth hockey players and their parents, and those not wearing brand-new Gulls gear were decked out in their own teams' sweaters - those of the San Diego Saints, San Diego Ice Arena (SDIA) Oilers, San Diego Jr. Gulls of the NAPHL and others.
"I think having them here is going to make more kids want to play hockey," said SDIA hockey director Craig Sterling, who went to the Gulls' opener and estimated that his players and families and their friends accounted for anywhere from 500-1,000 of the tickets sold that night. "If kids see highlights on TV or go to games, they're going to want to be involved, which is huge for all the rinks here."
The Gulls couldn't be more on board with that line of thinking, team president of business operations Ari Segal said.
"Hopefully, we can be both a nexus point and a catalyst for growth," Segal said. "In terms of growth, the AHL price point lowers the barriers to entry for new fans. We think, as more people have the opportunity to get a taste of that live experience, participation rates will accelerate.
"Having a professional hockey team here in San Diego gives the hockey community a cultural center. It gives young players something to aspire to - not just in terms of making the AHL or playing pro hockey, but having the chance to play on the Valley View Casino Center ice or even to meet a player. It gives coaches examples to point to."
San Diegans - much to the surprise of those in other parts of the country - largely embrace hockey. With a big military presence, plus nearly perfect weather and a lifestyle that's less hectic than Los Angeles to the north, San Diego is made up largely of transplants.
People come from all parts of cold-weather hockey hotbeds in the U.S. and Canada, and even though they can't skate on frozen ponds like they did growing up, they bring their passion for the sport south and west with them, and often pass that along to their children.
Participation in youth hockey is growing in San Diego, and the rebirth of the Gulls could play a big factor in keeping that momentum moving forward.
In addition to existing clubs like the Jr. Gulls, Saints, Oilers and UTC Piranhas, as well as a developing high school hockey league, rinks have opened in the last calendar year in Carlsbad and Poway.
Icetown Carlsbad hosts various teams in the Wildcats Hockey Club program, and Poway Ice will offer youth teams named the Poway Predators, in addition to serving as the official practice facility for the Gulls.
While the opening of new rinks just a few miles away could make some hockey directors nervous about their numbers, most in San Diego's hockey community see the growth of the sport as a positive for everyone involved.
"I really don't see it as competition," said Tevia Arlidge, the Jr. Gulls' NAPHL hockey director. "We have a small group of athletes here who play hockey, and having more rinks come on board is great, because it's just going to grow the pie.
"If we're working with the same-sized pie and just moving the pieces around, that doesn't help anybody, but if we're growing the pie, everyone's growing, and everyone's going to benefit."
Most in the San Diego hockey community agree that the return of the Gulls is a good thing for the sport locally and will continue to be for many years into the future.
For the last 10 years, hockey fans had to drive to Anaheim or downtown Los Angeles if they wanted to see professional hockey in person. Now, they have minor-league hockey back in their city, and with players being just a call-up away from playing in the NHL, it's the highest level of hockey they've ever seen live.
The Gulls aim to make their games family-friendly and affordable (group tickets start at $15), and they've already initiated relationships with the local youth programs.
The Piranhas were on the ice for pre-game ceremonies and a between-periods scrimmage on opening night, and the club has put on several learn-to-play programs with more to come. They've also partnered with the San Diego Chill - an organization founded by a San Diego-based teenager that helps developmentally disabled kids play ice hockey, Segal said.
"There was a buzz in the rink leading up to the Gulls' opener," said Jason Galea, the director of hockey at Kroc Center - home of the Saints. "Kids were excited and parents were excited about going to the games."
Arlidge and his wife attended the Gulls' opener and were excited enough about the team's return to the area that they bought season tickets.
When he first started working as a hockey coach in San Diego in 2005, the Gulls of the ECHL were in their final season, and he saw how much of a trickle-down effect a professional team could have.
Nearly a decade later, he's hoping to see history repeat itself.
"There were a lot of kids from the earlier birth years in our club who got into hockey just because of the (previous version of the) Gulls," Arlidge said. "And they never would've been playing hockey if not for the pro team here; they would've been playing some other sport.
"Some of those guys went on to play pro, juniors and college hockey, and then some of them came back and coach in our program.
"Hopefully, we'll see much more of that."