Previewing the NAPHL: San Diego Jr. Gulls
September 12, 2015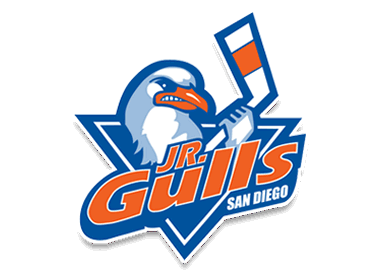 Over the course of the next two weeks, the North American Prospects Hockey League (NAPHL) is proud to feature a new series that will preview each of the 38 teams in the NAPHL for the 2015-16 season. Each day, leading all the way up to the first event of the season at the NAHL Showcase in Blaine, MN, the league will feature a different organization and take a look at both their teams.
Heading into their inaugural season in the NAPHL and with the unmatched platform of exposure being offered, the San Diego Jr. Gulls are looking forward to building upon the strong history and culture that has enabled their athletes to reach their goals of playing Juniors, NCAA and Professional hockey. In the past two years the Jr. Gulls have had two players drafted to the NHL and currently have 11 alumni either playing or committed to playing NCAA Division 1 (Boston College, Boston University, Cornell University, Harvard University (2), UMass Lowell (2), Nebraska-Omaha, Colorado College, Ferris State, Western Michigan).
San Diego 18U
The San Diego Jr. Gulls 18U team is led by Head Coach Jay Hebert, who is in his 11th year of coaching midget tier hockey with the organization. Hebert is excited for this roster and his players should achieve a high level of success through the talent, work ethic, and habits being created. The Jr. Gulls 18U team has a European flair with Joel Robling (Sweden), Domen Perovsek (Slovenia), and Tatu Kunto (Finland). Returning defenseman and Captain Matt Winsborrow will anchor the blue line along Josh Morrison, both of whom should add some offensive punch. Starting in the net will be WHL draft-pick Wyatt Monear (Alaska) and the remaining roster fills in nicely with important pieces to this team's success.
San Diego 16U
The Jr. Gulls 16U team is Head Coached Greg Pruden who brings over two decades of professional coaching and playing experience. Pruden is up for the challenge this season and will strive to continuously develop his team at each NAPHL event. The team is made up of Southern California grown players with the exception of starting goalie Gregory Moon (Massachusetts), and they will be led by returning forward and Captain Mikey Lempiainen.
San Diego Jr. Gulls Hockey Director Tevia Arlidge says, "Our players, our coaching staff, and the entire Gulls organization are thrilled to be a part of the NAPHL and cannot wait to get to Blaine, MN for the first event in September."
Next in Previewing the NAPHL: St. Louis Selects