Previewing the NAPHL: Meijer AAA Hockey
September 1, 2015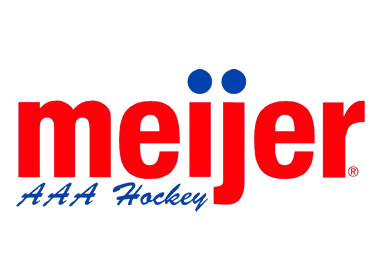 Over the course of the next two weeks, the North American Prospects Hockey League (NAPHL) is proud to feature a new series that will preview each of the 38 teams in the NAPHL for the 2015-16 season. Each day, leading all the way up to the first event of the season at the NAHL Showcase in Blaine, MN, the league will feature a different organization and take a look at both their teams.
The Lansing Capitals and the West Michigan Hounds merge under a new name; West Michigan Elite. Now with Meijer as its sponsor they will gain national recognition. "We are excited to represent the Meijer name and their values in the community we jointly serve. Our Meijer AAA Hockey boys teams will have Squirts (10 year olds) through Midget (18 year olds) and will be adding Girls AAA in the 2016-17 season," said Tom Berry, Director of Hockey.
The West Michigan Elite Hockey Club was approved by the Michigan Amateur Hockey Association to compete as one of eight Tier I hockey associations in the state beginning in the 2015-16 fall hockey season. The generous support and partnership from Meijer will allow the new WMEHC program to support both their own players and the hockey community as a whole by offering opportunities for players to experience the game at the highest youth level.
Returning behind the bench for the Meijer 18U team will be Brian Sherry. Brian is entering his fifth season at USA Hockey's National Team Development Program (USNTDP) where his responsibilities include identification, education and recruitment of potential players for the NTDP. Brian's experience in coaching and hockey development will add depth to the resources available to our players. He has extensive knowledge of the college recruiting process and, with the growing number players who graduate to juniors and NCAA hockey each year his expertise will be greatly important to Meijer Hockey players.
Prior to working for USNTDP Brian was a recruiting agent with Puck Agency (2009-2011.) Before that he served as an assistant director of athletics and as a business manager, as well as associate head coach for Manhattanville College, New York (2008-2009.)
Brian began his coaching career as an assistant coach and recruiting coordinator for Bentley (Mass.) College. (2004 – 05) after which he founded the first Becker (Mass.) College hockey team in 2005, serving as both the college assistant athletic director and associate head coach of the team. After his time with Becker College, Sherry joined the staff of the United States Military Academy's Army hockey team as assistant coach and recruiting coordinator.
Brian is a Lansing, Michigan native and four-year letter winner with the University of Findlay (2001-04) and a three-time member of the CHA's All-Academic team (2002-04). His junior hockey career was played in the North American Hockey League (NAHL) with the Springfield Jr. Blues (1998-2000.)
Sherry holds a BA in business management and marketing from Findlay University and an MA in Sports Business Management. Also returning is Asst. Coach Ray McKenzie and the addition of asst. Coach Nate Putek.
The Meijer Hockey 18U team has a total of 12 players returning from both the Capitals and the Hounds. There are some exciting new additions that should make for a very competitive team.
The Meijer Hockey 16U team is excited to have Tommy Mannino as its Head Coach.
Following a successful career in which he was drafted 10th overall in the 1st round of the OHL (London Knights), Tommy Mannino is one of the nations most sought-after coaches. Tommy was one of highest-ranked American-born players to be considered for the NHL draft. However, a career-ending hand injury prohibited him from pursuing his childhood dream. Following his playing career, his true passion shined through. Coaching and developing elite players allowing them a better chance to pursue their dreams. Over the past few seasons Coach Mannino has coached numerous players that have been drafted in the OHL, USHL, and NAHL , such as Jacob Chychrun 1st overall Sarnia Sting 2014-2015 OHL Draft and David Keefer, 1st round Muskegon Lumberjacks 2014-2015 USHL Draft.
Over the past 10 years Tommy has coached Professional, Collegiate, Junior, and youth hockey players. He has worked with some of the best coaches in the game such as Andy Weidenbach (Detroit Red Wings Skating Coach), Bob Mancini (ADM, USA Hockey Program) and Dale Hunter (former NHL Washington Capitols Head Coach). Throughout this time Tommy has also worked with USA Hockey and their Coaching Education Program in the Michigan and Southeastern Districts as a Level 1, 2 and 3 Instructor. Tommy is currently a scout with the London Knights of the Ontario Hockey League, and a former scout for the Omaha Lancers of the USHL.
Tommy is a Level 4 USA Hockey Certified Coach. His coaching philosophy is based on the principals of "Reality Coaching". Acknowledgment, Development, Execution. His ability to motivate and develop players by utilizing an array of on and off-ice teaching techniques is what sets him apart from the competition. Tommy resides in Farmington Hills Michigan with his wife Susan Mannino who played 4 years of NCAA Hockey at Union College. Tommy is the owner of Mannino Hockey and currently the Head Coach of Little Caesars Bantam Minor Hockey Team and is the Head Coach of the Walled Lake Western Varsity Hockey Team.
A few players he has coached and trained include:
Jan Mursak (NHL Detroit Red Wings, CSKA Moscow KHL)
Jacob Chychrun (1st overall Sarnia Sting 2014 OHL Draft)
Nick Merkley (1st round Kelowna Rockets WHL, WHL Rookie of theYear)
Riley Barber (Miami University NCAA, Washington Capitols NHL)
Nick Oslund (St. Cloud State NCAA, Detroit Red Wings NHL)
Stefan Noesen (Plymouth Whalers, 1st round Ottawa Senators NHL)
River Rymsha (Dartmouth NCAA)
Tyler Parsons (London Knights OHL)
Drake Rymsha (London Knights OHL)
Jalen Chatfield (Windsor Spitfires OHL)
David Keefer (1st round USHL Muskegon Lumberjacks, MSU NCAA)
The Meijer Hockey 16U team will have a whole new line up and expectations are high for the group this season.
Next up in Previewing the NAPHL: New Jersey Jr. Titans