NAPHL breaks records with NAHL tenders and draft picks
June 15, 2015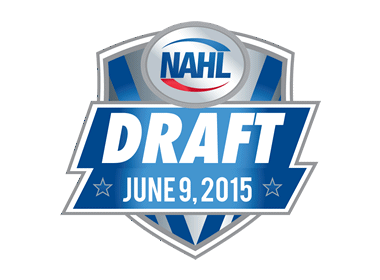 With the culmination of the NAHL Draft last week, the North American Prospects Hockey League (NAPHL) proved once again that its model continues to work and thrive and the amount of players being recognized at the next level continues to increase each season.
It was yet another landmark moment for the NAPHL, which enters its seventh season in 2015-16 with an all-time record number of 40 teams at the 18U and 16U USA Hockey Tier I youth levels. The success of teams on the National stage, as well as, the success of NAPHL players at the next levels of hockey, is further proof that the NAPHL is redefining exposure and has elevated itself to one of the premier training grounds for development and opportunity.
10 players with NAPHL ties were drafted, which included six players who played in the league this past season. That is in addition to the 53 NAPHL players who were signed to a tender over the course of the 2014-15 season, bringing the total number of NAPHL players who played in the league in 2014-15 that were either tendered or drafted into the NAHL to 63, which was an all-time record number for the NAPHL.
Current NAPHL players drafted:
Round 4, #69 overall, Kenai River Brown Bears - Richie McCartney (New Jersey 18U)
Round 4, #73 overall, Brookings Blizzard - Nico Blachman (Omaha 18U)
Round 5, #97 overall, Johnstown Tomahawks - Ty Rickabaugh (Esmark 18U)
Round 7, #140 overall, Fairbanks Ice Dogs - Marshal Plunkett (Madison 16U)
Round 9, #160 overall, New Jersey Titans - Anthony Cusanelli (New Jersey 18U)
Round 13, #195 overall, New Jersey Titans - Greg Malafronte (New Jersey 18U)
Former NAPHL players drafted:
Round 1, #5 overall, Brookings Blizzard - Jack Suter (Omaha 16U, 2011-12)
Round 2, #38 overall, Minot Minotauros - James LaDouce (Lansing 18U, 2011-12)
Round 5, #92 overall, Odessa Jackalopes - Brandon Tucker (Pikes Peak 16U, 2012-13)
Round 6, #118 overall, Bismarck Bobcats - Eetu Selanne (Anaheim 16U, 2012-13)
"Not only do we see the competition and skill level get better each season, but I also think we are seeing the evolution and success behind the exclusive NAPHL event scouting system that was established a few years ago," said NAHL Commissioner Mark Frankenfeld. "We now have an established and proven system that works and the evidence is in the continued rise in the number of players advancing to the next levels of hockey, which includes the NAHL draft and tender system. We continue to see the rise in this advancement thanks to our unique event schedule, balanced competition, event scouting system and quality coaching."
One of those players drafted was New Jersey Jr. Titans 18U forward Anthony Cusanelli, who led his team to the NAPHL 18U Championship this past season and was also selected to the All-NAPHL 1st Team. Cusanelli was selected by the NAHL's New Jersey Titans, who will be the first team in NAHL history located in New Jersey after relocating from Sault Ste. Marie, Michigan earlier this spring, meaning he will be able to stay close to home to play a very high level of junior hockey.
"I've been a Jr. Titan for six years now, so to be included in the organization's first NAHL draft is very special to me," said Cusanelli, a 19-year old forward from Holmdel, NJ who has played with the Titans' NAPHL teams for the past four seasons, and has recorded 89 points (56g, 33a) in 70 games over that time.
"When you play hockey you do it with the realization that you'll probably have to travel if you want to move on to a higher level," said Cusanelli, who led the NAPHL in regular season point production (40) and goals (22) in 23 games this past season. "Having opportunity to stay home would be great. But I know it won't be easy. There's still a lot to prove at the Main Camp."
The Titans grabbed another local skater and organizational product 35 picks later, taking Jr. Titans 18U forward Greg Malafronte 195th overall in the 13th round. "It's a big honor to get picked in the NAHL draft, but getting drafted by the organization I grew up playing my whole youth career with makes it even more special." Malafronte said.
Malafronte, an 18-year old Holmdel native, also starred with the Titans NAPHL affiliate a season ago, finishing seventh in league scoring with 30 points (16g, 14a) in 24 games. "I've known the Titans coaching staff for a while now. I know the time and effort they've put into this organization and me. I hope I can prove myself in camp later this summer and earn my opportunity to play at the next level."
Earlier this spring, the NAPHL also had tremendous showing during Phases I and II of the 2015 United States Hockey League (USHL) Draft. The NAPHL set another record for the third straight season for the number of players taken in the USHL Draft. This season, 23 players with NAPHL ties were selected, including a record 17 who played in the NAPHL this past season. Compare that number with two years ago in 2013 when only five players were taken.
In addition this past season, nine NAPHL players made NCAA Division I commitments while playing in the league.