Fairbanks forward Clary makes NCAA DI commitment
April 15, 2015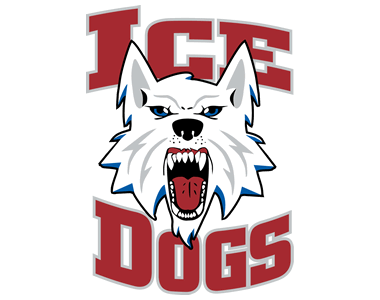 By Tim O'Donnell, News-Miner
Lonnie Clary received a phone call from the Rensselaer Polytechnic Institute hockey team informing him that if he wanted to, he could join the Engineers next season.
The Fairbanks Ice Dogs and NAHL Top Prospects forward decided he wanted to play for RPI in Troy, New York, and announced his commitment.
"I called my dad to double check and he immediately told me to get off the phone and call them back to seal the deal," Clary said.
The native of Riverside, California, is the second Ice Dog in a week to commit to RPI, out of the Eastern College Athletic Conference, and fourth in the last two seasons. Jesper Ohrvall committed to the Engineers last week while Todd Burgess committed last season. Former Ice Dog skater Viktor Liljegren recently finished his freshman season with the Engineers.
"I talked to (Ice Dogs general manager Rob Proffitt) a little bit and he said he couldn't have thought of a better fit for me than to go to RPI," Clary said. "We kind of made the decision in about 15 minutes that I was ready to make that move and head off to New York."
Clary, Liljegren and Burgess all helped the Ice Dogs with the North American Hockey League Robertson Cup title last season. "I got a call from (Liljegren) when he heard I committed saying how stoked he was," Clary said. "He told me how he was walking around campus with a big smile on his face knowing I was coming. That was pretty surreal to hear. And he was saying how much of fit it will be for me to be in that locker room," Clary added. "I'm anxious to get get going with the boys — Todd Burgess, Jesper and Liljegren — see what we can do and change the history over at RPI."
Liljegren scored seven goals and five assists for 12 points in 40 games as a freshman for the Engineers.
"Once a dog, always a dog," Clary said. "These guys have been nothing but brothers to me."
In 54 regular season games this season, Clary, who is listed at 5-foot-11, 170 pounds, has scored eight goals and 15 assists for 23 points this season. In three seasons with the reigning North American Hockey League Robertson Cup champions, Clary has scored 27 goals and 48 assists for 75 points. Clary also played in the last two NAHL Top Prospects Tournaments, including the latest one in February in Ann Arbor, MI.
Prior to coming to play for the Ice Dogs in the NAHL, Clary played a year in the NAPHL during the 2011-12 season for the Orange County Hockey Club 18U team, where he had 12 points in 22 games played.
Clary also has one assist through the Ice Dogs' first two games in the Midwest Division semifinal against the Minnesota Magicians. The Ice Dogs lead the series 2-0. But Fairbanks head coach Trevor Stewart doesn't rely on Clary for the points. Instead, Stewart looks to Clary to be one of the main energy players on the roster.
"It's paramount in a team's success to have those high end character guys that understand maybe, that it's not always about production in terms of points but its about doing the little things and competing and being a good teammate every single day," Stewart said. "It's pretty hard to find these days."
Stewart expects Clary to play a similar role with the Engineers, who went 12-26-3 overall last season and 8-12-2 in the ECAC. "He's going to bring energy to the lineup on game days," Stewart said. "Not only game days but bring that energy level up in practice as well and just make everyone around him better."
Clary said the Engineers are going to give him a chance to play as a freshman. "I'm prepared to go in and earn my ice time and hopefully become a everyday guy by the end of the year," Clary said.
Clary is undecided on what he wants to major in while at RPI but has given some thought to engineering. "There's a part of me that wants to be around the team as much as i can, making sure everyone's got their head on right," Clary said. "I'm thinking about going in and starting out in business. Just poke my head around and see how that's going. Maybe later I'll probably switch over to engineering down the road."
Clary's commitment gives the Ice Dogs nine college recruits on the roster. Along with Ohrvall and Burgess, forwards Hans Gorowsky and Adam Wilcox and defenseman John Teets are committed to Alabama Huntsville; forward Ethan Somoza is a Bemidji State recruit; forward Chandler Madry (Minnesota State); forward Jacob Hetz (Ferris State); and goalie Patrick Munson (Vermont).