East captures NAPHL Top Prospects title
February 25, 2015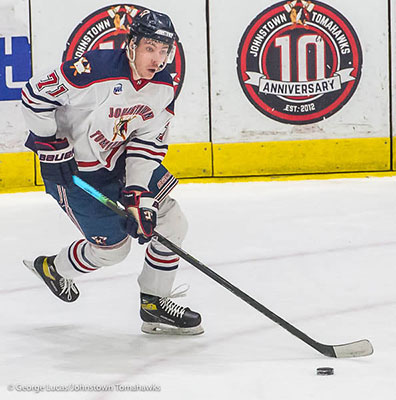 In the final day of the NAPHL Top Prospects Tournament in Ann Arbor, a win by the East team in the morning secured a 3-0 record and the right to call themselves Top Prospects Champions, as they were the only club at the event to finish with a undefeated record.
The Great Lakes team finished the event at 2-0-1 to finish in 2nd place, while West finished 1-1-1 and Central finished 0-1-2.
Over 200 NHL, NCAA, college and junior scouts attended the event, which was combined with the NAHL and NA3HL Top Prospects Tournaments.
Click here for event results and stats
Game 5, East 6 vs. West 3 - West could not stop East's Anthony Cusanelli (New Jersey), who tallied a hat trick in a 6-3 win. Cusanelli notched his first tally 16:08 into the first period. He then added goals at 16:52 into the second and at 12:07 into the third. East additionally got points from Brian Dee, who also racked up one goal and one assist. East also got a goal from David Polinski as well. Other players who recorded assists for East were Charlie Singerhouse, Aaron Murray, and Brendon Zack, who each chipped in one and Carter Ekberg, Peter Hatton, and Mike Gelatt, who contributed two each. West was helped by Felix Takacsi-Nagy, who registered one goal. Takacsi-Nagy scored 15:51 into the second period to make the score 3-2 East. Jarod Hovde picked up the assist. West also got points from Aaron Burden, who also tallied one goal and one assist to lead the team in points. Richie McCartney also scored for West. In addition, West received assists from Evan Somoza and Paul Boutoussov, who each chipped in one. Scott Trellis took the win and made 10 saves before being replaced by Jospeh Giacobbo who made 11 saves. West's starting goalie, Sean Lincoln, made seven saves and finished with the loss before he was taken out in favor of Nicholas Nast, who stopped 16 shots. Boxscore
Game 6, Great Lakes 4 vs. Central 3 (SO) - Three periods of regulation and an overtime session were not enough to settle matters as Great Lakes defeated Central in a shootout 4-3. The shootout featured nine attempts between both teams. Central's shootout goal was scored by Tycho Falk. In addition to the clincher, Great Lakes got a shootout goal from Josh Kirsch. Great Lakes saw a three-goal lead disappear, but was able to secure the win in a shootout. Great Lakes made the score 3-0 on a goal by Tyler Berndt at 4:25 in the second period. Central evened things up at 3-3 on a goal by Charlie Corbett at 12:23 in the third period. Great Lakes was helped by Kieran Durgan, who tallied one goal. Durgan scored 2:34 into the second period to make the score 2-0 Great Lakes. Great Lakes additionally got points from Phil Erickson, who also had one goal and one assist to lead the team in points. In addition, Great Lakes received assists from Chase Mickelson, Austin Redders, and Michael Rounds, who each chipped in one. Central forced Great Lakes' goalies to work hard to keep the puck out of the net, ripping 44 shots and forcing 41 saves. Chance Kremer made 25 stops and Devin Cooley made 16. Central's defensemen played an important role in the offense, chipping in two goals. Central was helped by Matt Nehls, who registered one goal. Nehls scored 5:30 into the third period to make the score 3-1 Great Lakes. Reise Kieffer also scored for Central. Other players who recorded assists for Central were Martin Aune, Erik Pritchard, and Matt Christian, who contributed one each. Central took out Cam Newman after he had made 12 saves and installed Darion Hanson in goal, where he finished with 14 saves and the sol. Boxscore