NAPHL Championships enter Selection Sunday
February 15, 2015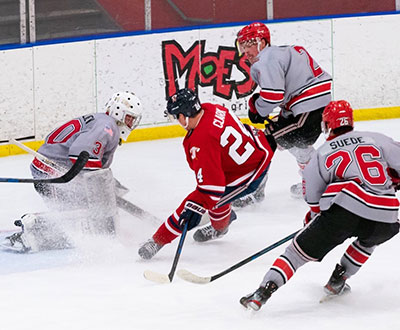 Through the first two days of the 2015 NAPHL Championships in Troy, Michigan, very little has been decided, which is a testament to the competition thus far, and will set the table for an exciting and deciding Sunday.
Gold Divisions
18U Gold
In the Gold A Pool, the New Jersey Jr. Titans have won their first two games and have clinched a spot in one of the two Semi-Finals, although seeding is yet to be determined. The second team to advance will be either Madison or Esmark, who face one another on Sunday. The winner of that game will advance to the Semi-Final round. HC Dallas has been eliminated and will face New Jersey on Sunday, but a win for HC Dallas will not be enough for them to advance. If New Jersey wins or losses in a shootout, they will be the top seed.
In the Gold B Pool, Omaha is in the driver's seat with a 2-0 record, but have not mathematically clinched a semi-final berth. California and Anaheim are behind Omaha with 1-1 records and both have a 0 goal differential. However, California beat Anaheim in the round-robin. Lansing is still in the mix despite a regulation loss and a shootout loss, but they need a regulation win on Sunday against California and an Omaha win in regulation over Anaheim to advance.
16U Gold
In the Gold A Pool, Anaheim is in the driver's seat, but has not mathematically clinched a spot in the semi-finals yet. The Jr. Ducks have yet to allow a goal in wins over St. Louis and Lansing. Esmark will face Anaheim on Sunday and will have to win to have the best chance to advance. Lansing faces St. Louis on Sunday with the Selects mathematically still in the mix, but needing a win and an Esmark loss. Lansing beat Esmark, but it is possible that both could lose or win and still end up in a tie in the standings.
In the Gold B Pool, Omaha is in the driver's seat, but like Anaheim in Pool A, Omaha not mathematically clinched a spot in the Semi-Finals yet. Omaha faces Arizona on Sunday. Arizona is 1-1, as is Pursuit of Excellence. Pursuit beat Arizona, so they have an edge there, but things could get interesting if there is a three-way tie. New Jersey, who is 0-2 has an outside chance of getting in a three-way tie, but they need to beat Pursuit and hope for an Omaha win over Arizona.
Silver Divisions
18U Silver
In the Silver A Pool, both Pikes Peak and St. Louis have advanced to the Semi-Finals. Pikes Peak won the Pool with a 3-0 record and St. Louis was 2-1. The two teams played one another on Sunday and Pikes Peak won 6-0. West Michigan and Minnesota have been mathematically eliminated from advancing to the Semi-Finals.
In the Silver B Pool, Pursuit of Excellence won the pool with a 3-0 record. However, there was a three-way tie for second place between Arizona, San Jose and Philadelphia. The tie-breaker was goal differential in the games between the three tied teams and Arizona advanced under that scenario.
16U Silver
All seven teams are still alive after three games and in one team's case, four. What is known is that the winner of the Sunday game against the San Jose Jr. Sharks and California Titans will be one of the finalists in the 16U Silver Championship with a 3-1 record. It is likely that the second finalist will advance with a 2-1-1 record through a tie-breaker among what will be several teams.