Fairbanks defenseman Teets makes NCAA DI commitment
January 22, 2015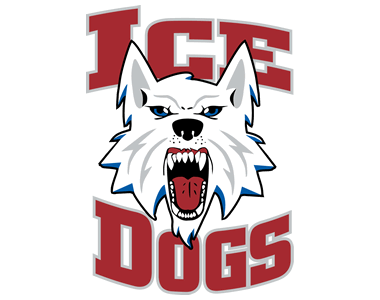 By Danny Martin, Fairbanks News-Miner
John Teets talked twice last week with Mike Corbett, the head hockey coach for the University of Alabama-Huntsville.
The second conversation sealed the Ice Dogs defenseman's decision to verbally commit to the NCAA Division I program and member of the Western Collegiate Hockey Association.
Teets, a former Hutchison High School (Fairbanks, AK) skater and first-year Ice Dogs defenseman, first spoke with Corbett last Monday and they resumed their conversation last Tuesday.
"He's a really upfront guy who talks to you like it is,'' Teets said after the Ice Dogs practice Wednesday morning at the Big Dipper Ice Arena. "He's going to be honest with you, and if you don't like that, that's too bad. "I like that in a coach,'' Teets added.
Ice Dogs head coach Trevor Stewart said he thinks that the Corbett and his coaches will like what the 6-foot-3, 200-pound blueliner brings to the Chargers, who have gone from three wins for all of last season to six wins so far this season.
"He's really developed and come into his own, especially in the last month and a half,'' Stewart said Wednesday. "You can see that he's producing and now he's got an opportunity for himself to play Division I hockey because of it."
Teets, 20, has contributed three goals and 13 assists for 16 points in 39 games for the Ice Dogs. Half of his points come from eight assists during power plays, and one of his goals occurred during a man-advantage situation. Teets typically plays against a top forward on the opposing team but he can contribute offensively.
"I've contributed offensively on the power play, chipping in a few points,'' he said, "but for me, as long as I'm not getting scored on, I'm usually doing my job. "I'm moving the puck up the boards to the skilled forwards we have, and the more they have the puck the better,'' he added.
Teets graduated through the BEST program of the Fairbanks North Star Borough School District. Following his sophomore year at Hutchison, Teets played in the North American Prospects Hockey League (NAPHL) for the Pikes Peak Miners AAA 16U program in Colorado.
During his lone NAPHL season in 2010-11 with the Miners, Teets recorded 12 points in 20 games played and had one goal in five playoff games as the Miners went onto capture the NAPHL 16U Championship that season.
He started this season with Fort McMurray in the Alberta Junior Hockey League but was later traded. He contacted the Ice Dogs administration about playing for his hometown's North American Hockey League program.
"They made me earn my ice time, and I've done it,'' Teets said. "I've really developed in the time I've been here and Stew (Stewart) and Pauly (Paul Kirtland, Ice Dogs assistant coach) have been great coaches to help me out."