Janesville defenseman Hutton makes NCAA DI commitment
January 20, 2015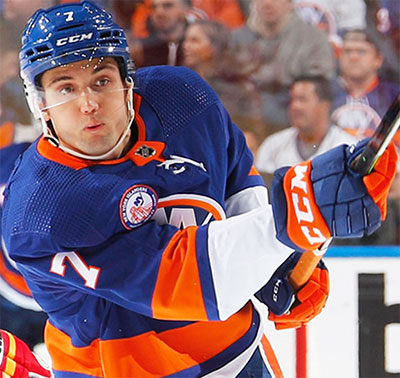 The Janesville Jets of the North American Hockey League (NAHL) are pleased to announce that defenseman Grant Hutton has committed to play NCAA Division I hockey for the Miami University RedHawks of the National Collegiate Hockey Conference (NCHC).
Hutton is a 1995-born, 6'3", 196-pound defenseman from Carmel, Indiana, a suburb of Indianapolis. He will finish out the season with the Jets and enroll at Miami in the fall of 2015. Through just 20 games with Janesville, Hutton has recorded 11 points on 4 goals and 7 assists, a point pace that places him second among Jets defensemen.
"Hutton is a dominant guy in front of the net, and he's strong on pucks on the wall," said Jets head coach and general manager Joe Dibble. "He's not only reliably defensively, he's also got some offensive ability and brings some shooting power to the power play. He runs our 1-3-1 and has a really heavy shot. Anytime he gets it off, it's a threat to score."
Hutton is also a part of the ever-growing fraternity of players in the NAHL, who also developed and played in the NAPHL. In Hutton's case, he played in the NAPHL for two seasons, both for the Indiana Jr. Ice 16U team. He was a key part of the defense that led Indiana to the NAPHL 16U Championship in 2012, as the team gave up just five goals in their five games leading up to the title. Hutton played in the NAPHL during both the 2010-11 and 2011-12 seasons.
After played in the NAPHL, Hutton spent the better part of two seasons playing for Corpus Christi in the NAHL in 2012-13 and 2013-14.
Hutton, a +19 on the season, identified his dependability as his best asset to bring to coach Enrico Blasi's RedHawks.
"I want to be a guy who plays consistent every night, who does all of the little things right," he said. "I just try to be me."
Hutton was attracted not only to Miami's Goggin Ice Center and their weight rooms, but also the classrooms of the university, which placed in the overall top 30% of a 2014 Forbes ranking of 650 public and private universities.
"It's obviously not only great athletically but also academically, which is very important to me and my family," he said. "I can get a good education as well as play hockey. "
Dibble also recognizes Hutton's academic and athletic opportunities at Miami.
"Miami is one of those prestigious programs," he said. "They're a first class organization with a first class staff that is known for development, winning hockey games, and moving their players on to the pro ranks. It's a great school as well. Academically and athletically, for a student athlete you can't really find a program much better than Miami."
No matter how the season ends for Hutton and his first place Jets, one thing is for certain: Miami is getting a leader.
"Grant's one of those kids who's a first class professional in everything he does," Dibble added. "He carries himself the right way around the rink and community. He's a good human being."
Hutton is the sixth player of the 2014-2015 Jets to commit to a Division I program, joining Nicolas Erb-Ekholm (Alaska-Anchorage), Kyle Patava (Air Force), Cullen Munson (Army), Mitch Fossier (Maine), and Drew Callin (Bentley).