Fairbanks forward, former NAPHL'er Hetz makes NCAA DI commitment
January 14, 2015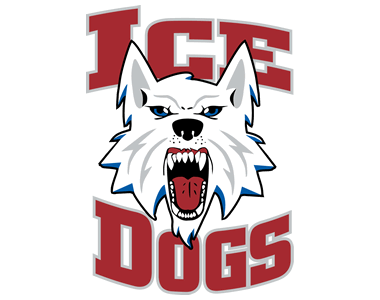 Danny Martin, Fairbanks News Miner
It just took a conversation with a Ferris State University assistant coach for the NAHL and Fairbanks Ice Dogs' Jacob Hetz to verbally commit to the NCAA Division I program and member of the Western Collegiate Hockey Association.
"As soon as I talked to him, I knew that I really wanted to go to that school,'' the 19-year-old left wing, during a cellphone interview Tuesday, said of Ferris State, located in Big Rapids, Michigan.
Hetz was offered a scholarship Sunday night from Ferris State. He discussed it Monday morning with his parents before making his decision about 15 minutes before the Ice Dogs' practice at the Big Dipper Ice Arena in Fairbanks.
The 6-foot-1 and 195-pound native of Pittsburgh also was impressed with the recent history of the Bulldogs program.
Ferris State played in the Division I national championship game in 2012, when it was a member of the old Central Collegiate Hockey Association. The Bulldogs captured the WCHA regular-season title last season and reached the championship game of the WCHA Final Five tournament.
"It's obviously a great program,'' Hetz said, "and it's got a great culture behind it."
Hetz has 21 goals and 19 assists for 40 points in 37 games this season for the Ice Dogs, ranking him as the team's third-leading scorer and putting him in a five-way tie for fourth place among the NAHL's leading scorers.
"He's a bigger body as a forward; he skates hard; and he has a knack for being around the net,'' Ice Dogs head coach Trevor Stewart, during a cellphone interview Tuesday, said of reasons that Ferris State was attracted to Hetz. "I think he's going to be a good fit for them moving forward,'' Stewart added.
Hetz joins the hundreds of success stories in the now six-year history of the North American Prospects Hockey League (NAPHL) of players who developed in the NAPHL, moved onto the NAHL and ultimately ended up with an NCAA Division I opportunity.
In Hetz's case, he followed a familiar path to this success. Hetz played for the Pittsburgh (Esmark) Stars 18U team in the NAPHL during the 2011-12 season. He had a standout season that year for the Stars, who finished 1st overall in the 18U Division that season and saw their top 6 scorers all end up playing in the NAHL.
Hetz also played in the 2012 NAPHL Top Prospects Tournament in Frisco, Texas, which was followed by Hetz signing an NAHL tender with Fairbanks.
Hetz, who is considering majoring in business management at Ferris State, is among five future WCHA players on the Ice Dogs' roster this season.
The others are Hans Gorowsky (Lake Superior State), Chandler Madry (Minnesota State), Adam Wilcox (Alabama-Huntsville) and Ethan Somoza (Bemidji State).