POE 18U defenseman Stevenson accepts hockey challenge
January 7, 2015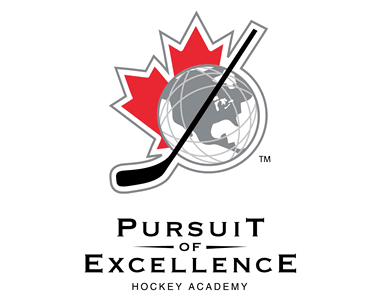 Feature story by the Shaunavon Standard
Shaunavon, Saskatchewan resident Kain Stevenson enjoyed a nice break during the Christmas holidays in the midst of what has been a whirlwind hockey experience.
Stevenson, a grade 12 student, joined the Pursuit of Excellence Hockey Program in Kelowna, B.C. this past fall. Considered one of the premiere hockey academies in North America, the program is committed to developing young athletes through an initiative that promotes both hockey and academic excellence.
"It's been a great experience," said Kain. "I'm really glad that I decided to come. It's been great and I'm having a lot of fun."
Kain's team, which plays the equivalent of Tier I AAA midget hockey, is one of a half dozen squads that operate under the Pursuit of Excellence banner. The academy includes both male and female programs. Kain's school competes in two different leagues, including the North American Prospects Hockey League (NAPHL) and the Canadian Sport School Hockey League (CSSHL).
The NAPHL is a 32-team circuit that features teams from states that include Nebraska, California, Arizona, Michigan, Missouri, New Jersey, Wisconsin, Texas and Washington.
"The American teams play a different style," said Kain. "The games are played at a really fast pace and they aren't as physical. But it's nice to play different styles and see what other teams are doing."
In fact, the league is so diverse - and the distances so great between cities - that the teams only gather to play league games several times a year in a tournament style setting. The teams play as many as six games during each visit.
Still, the travel is extraordinary.
Kain, for instance, has already made two trips to Minnesota this season and one to Chicago and Omaha.
The team is also scheduled to visit Detroit in the New Year and a return trip to the Motor City is expected later in 2015 when the league holds its playoff tournament.
The CSSHL, meanwhile, includes teams from British Columbia and Alberta.
"We're having a pretty good season as a team, even though we've had quite a few injuries this year," said Kain. "We should qualify for the playoffs in the U.S. league and we have a shot at winning the Canadian league."
The team is also getting ready to host its own tournament this weekend, featuring the participation of AAA teams from across North America, including a pair from Saskatchewan.
It's a hectic schedule to say the least, but one that Kain is thoroughly enjoying. The team had already played 36 games before the Christmas break.
Kain billets, along with another player on his team, with a family in Kelowna.
The hockey rosters of the Pursuit teams feature players from as far away as Sweden, Russia and Australia, although the furthest traveller on Kain's team is from the Northwest Territories.
Under the Pursuit program, players split their days between hockey training and regular classroom studies at nearby George Elliot Secondary School. Their morning's begin everyday with a one-hour workout that incorporates a strong fitness regime along with skill development, such as shooting sessions.
The Pursuit of Excellence Academy features a 27,000 sq ft training facility that boasts everything from a massive weight and fitness room to skills rink, shooting area and skating treadmill. The young athletes also spend two hours on the ice for practice sessions, Monday through Friday, with weekends booked for games and tournaments.
"It's a pretty busy schedule, but I really like it," said Kain. "We don't have a lot of free hours, but I spend most of my free time getting caught up on school work. We're on the road so much that we have quite a bit of home work."
"Right now I'm just looking forward to the rest of the season," said Kain. "I've improved so much this year and just want to keep improving."