NAPHL announces Apex Learning Peak Performers for November
November 26, 2014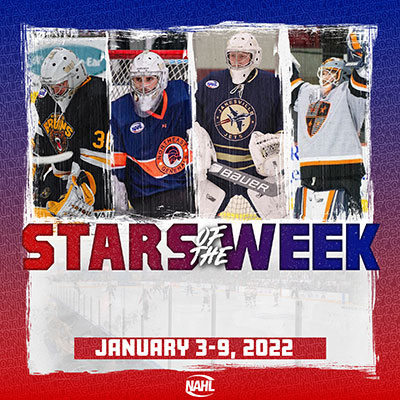 The North American Prospects Hockey League (NAPHL) announced its Apex Learning Virtual School Peak Performers for the month of November. The players were selected based upon their performance at the third NAPHL event of the season, which took place at Moylan Iceplex in Omaha, Nebraska from November 13-16, 2014.
18U Apex Peak Performer (Forward) – David Polinski, Esmark Stars
In recent years, the Esmark Stars have done their winning with defense, but at the event in Omaha their offense sparked them to a perfect 4-0 record at the event as they scored 18 goals in four games. Leading the way was 18-year-old forward David Polinski. The native of Moundsville, West Virginia was one of the offensive leaders with seven points (2 goals, 5 assists) in the four wins and he managed to record at least a point. In the first game, Polinski (6'0/190) had an assist in a 5-2 win over New Jersey. Later that day, he had the game-winning goal and two assists in a 5-1 win over HC Dallas. The following day, Polinski had a goal and an assist in a 5-4 shootout win over St. Louis. On the final day of the event, he picked up another assists in a 3-0 shutout of the Minnesota Revolution. For the season, Polinski ranks 3rd on the team in points with 14, which includes six goals and eight assists. He also leads the club with three game-winning goals. "David had a great weekend in Omaha and it was nice to see his hard work pay off. His success is predicated on being a true power forward. He has the body and the strength to play at the next level and if he uses that to his advantage in the NAPHL, he is very effective," said Esmark head coach Dave Kosick.
#2 Star: Evan Camba, Anaheim Jr. Ducks
#3 Star: Adam Alavi, Esmark Stars
18U Apex Peak Performer (Defense) – Luke Boose, Pikes Peak Miners
Pikes Peak defenseman Luke Boose, 17, had a great weekend in Omaha as the Miners fashioned together a 3-1 record and got themselves back in the playoff race in the 18U Division. The native of Dakota Dunes, South Dakota, totaled seven points at the event as Pikes Peak outscored their opponents 15-11 in the four games. Boose (6'3/210) managed to register at least a point in each of the four games and totaled seven points in all (5 goals, 2 assists). In the first game, Boose had two goals, including the game-winner, in a 3-2 win over Omaha. The next day he scored again in regulation and had a shootout goal in a 3-2 win over St. Louis. Late that same day, Boose picked up an assist in a 5-2 loss to Lansing. In the final game, Boose had two more goals and an assist in a 7-2 win over the West Michigan Hounds. His nine points and six goals both rank 2nd on the Miners 18U roster. "Luke is really developing well as an offensive defenseman. He has the rare ability to take over hockey games. As Luke continues to improve and challenge himself every day, he is going to be a very effective player at the junior level," said Pikes Peak head coach Greg Vanover.
#2 Star: Evan Nyhus, Anaheim Jr. Ducks
#3 Star: Joey Rosa, St. Louis Selects
18U Apex Peak Performer (Goaltender) – Darion Hanson, Omaha AAA
Omaha kept pace close to the top of the 18U standings with a 3-1 record in their home building. In goal for all three wins was 17-year-old goaltender Darion Hanson. The native of East Bethel, Minnesota, was outstanding in goal as he allowed just two goals in the three wins. Hanson (6'3/175) stopped a total of 64 of 66 shots that came his way during the event. On Thursday night, he stopped all 16 shots that came his way in a 3-0 shutout of the Pursuit of Excellence. The next day, he made 12 saves in an 8-1 win over Philadelphia. In the final game, Hanson made 36 saves in a 2-1 win over the Anaheim Jr. Ducks. To date, Hanson has posted a 7-1 record with a 1.77 goals against average an a 93% save percentage. "Darion has been a very good goalie for us for two years now. He is a very solid prospect and has a great frame to play the position effectively. He had a great weekend in Omaha and hopefully it's a sign of things to come for him," said Omaha head coach David Wilkie.
#2 Star: Scott Trellis, Esmark Stars
#3 Star: Zach Young, St. Louis Selects
The NAPHL is comprised of five regular-season events leading up to its Championship Tournament Series in which the top teams in each division compete for a league championship. The fourth NAPHL event of the 2014-15 season will take place from December 5-8, 2014 at the Schwan Super Rink in Blaine, MN. The event will feature all 32 NAPHL teams.
With more than 100 online high school courses and 20 years of experience, Apex Learning Virtual School offers players the opportunity to be both successful academically and available for practice and travel. Rigorous curriculum and the support of expert online teachers provide a strong academic foundation. The flexibility to complete online course work when and where it is convenient means school can fit with player's hockey commitments. Enrollment options include full time to earn a diploma and individual courses to fulfill specific requirements. For players wanting to qualify for Division I and Division III college teams, courses approved by the National Collegiate Athletic Association (NCAA) are offered.