RoadRunners defenseman Brickley makes NCAA DI commitment
November 20, 2014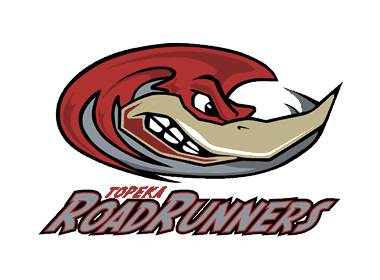 The Topeka RoadRunners of the North American Hockey League (NAHL), are proud to announce that first year defenseman Daniel Brickley has secured an NCAA Division I college commitment to skate for the Minnesota State University - Mankato Mavericks. It's still open as to whether he will join the team in the fall of 2015 or 2016.
Brickley, who hails from Sandy, Utah was the RoadRunners first pick in the NAHL Entry Draft this past summer. The 6'3", 210 pounder had most recently played for the Hawkesbury Hawks (CCHL). Before that, he played for the NAPHL Utah Regulators 18U where he appeared in 20 games before landing with the Hawks, putting up 32 points in 61 games (5g, 27a). He was the top scoring D man on his team, and ranked in the Top 10 in the league. Adapting to the NAHL has been smooth. "The play in this league is high tempo, physical, and very competitive", he said. "I've made some great friends and I'm playing with a great organization."
Brickley's play garnered considerable attention from a number of Division I schools. "It is an unbelievable feeling and I'm honored to know colleges are out there looking at me and taking serious interest. It's just an amazing feeling", he said. "It is a great learning experience as well." Choosing from a number of appealing collegiate offers made for a fair amount of deliberation, but in the end the decision was made easier by his recent campus visit. "It's just an all-around great school. From their students and the guys on the team to the coaching staff, there was just a warm fuzzy feeling I got when I talked to everyone there." As far as selecting a major, he has some ideas in mind. "I am going back and forth between business and sports management or aviation."
On NAHL Draft Day, he was initially unaware Topeka had selected him. "When I found out I was drafted, I was actually at work. My buddy, who got drafted by Bismarck, texted me saying, 'Congrats buddy, you're going to the NAHL!' I couldn't really act too excited at the moment because I was working construction but inside I was very happy and excited." RoadRunners Head Coach / GM Scott Langer was excited at the potential Brickley displayed. "Daniel will provide an offensive boost to our team from the back end. He sees the ice very well and that vision makes him a very effective power play player", Langer said after the draft concluded. "He also adds good size to our back end which is very important in the South Division." At the time of Brickley's commitment, his play has lived up to Langer's expectations. His 17 points is tied for second most among NAHL blueliners, and his 4 power play goals are the most in the league. With a third of the season gone by, Langer is impressed with what he's seen. "He's everything we expected when we drafted him, and more", Langer says. "His high end day-to-day work ethic is what's allowed him to commit to such a quality school."
Brickley got an early start in hockey. "I started playing hockey when I was two years old", he explained. "My father taught me how to skate. He would bring me out to this old hockey rink where we would have the whole ice to ourselves and he would set up these little obstacle courses for me and my sister. That's where I learned to skate, and began playing competitive hockey soon right after that." Although he's been playing defense, that wasn't always the case. "Growing up my whole life I was able to play forward and defense, whatever the coach needed I played. I just love being out there and playing."
Brickley is grateful to his family, who he says has been supportive of every decision he's made along the way. "I've played for some great coaches, like (ex-NHLer) Shawn Anderson, and of course Smack (Scott Langer) and Coach Kamrass. They've helped me develop my game each step of the way, and that was always my goal." He credits his teammates for bringing it all together. "Without this group of guys here in Topeka, I don't know that I'd be here today. This whole RoadRunner family has made my dreams a reality." Scott Langer knows Brickley is a special player. "When his time here is done, he will go down in our history as one of the best defensemen this program has had."
Brickley is the fifth RoadRunner on the current roster with Division I college plans locked in, joining Shawn Brennan and Drew Vogler (Merrimack), Carlos Fornaris (Rensselaer Polytechnic) and Will Scherer (Brown University). He is the second RoadRunner to matriculate at MSU-Mankato, following Eriah Hayes.