Barnett to continue NCAA seminars in Romeoville
October 8, 2014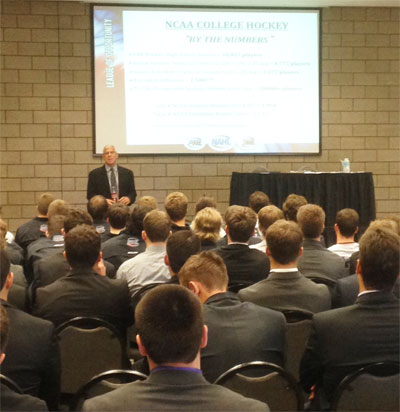 In an effort to provide more opportunity to NAPHL players in Romeoville, the NAHL has once again tasked Craig Barnett to present a NCAA Compliance and Education seminar. The 45-minute presentation scheduled for Friday, October 17 or Saturday, October 18 will be located in the meeting room adjacent to the Scout Room in the Canlan Ice Center in Romeoville, IL.
Barnett is currently the Director of Player Personnel and Development for NAHL, NAPHL and NA3HL. He is also a former NCAA I head hockey coach, athletic director and currently serves as commissioner of a NCAA I lacrosse conference. Craig brings a wealth of knowledge and information that he will share during these seminars along with updates since last year.
The Education and Compliance seminar will cover several topics including the differences between NCAA Division I and III hockey, an introduction to the NCAA Eligibility Center and important soon-to-be changes, Academic requirements needed to compete at the NCAA level, and how the college recruiting process works.
The NAHL Event Scouting System will also be on hand in Romeoville and will be easily identified by their grey NAHL jackets. Barnett coordinates this effort by having the scouting group watch and evaluate all NAPHL teams participating this weekend. The evaluation reports are then collected, organized, and then attached to each players profile. A full scouting report will then be dispersed to all NCAA I and III schools, NAHL coaches and NHL scouts.
This is the third year of the scouting initiative and proved to be very successful in assisting NAPHL coaches in promoting their players to the next level of hockey. "There are a record number of former players from both the NA3HL and NAPHL currently on NAHL rosters, so we feel this is a very important piece to the recruiting puzzle," said NAHL Commissioner Mark Frankenfeld. "With over 1,300 players actively playing in both the NA3HL and NAPHL this season, Craig's role is essential in coordinating, organizing and distributing the Event Scouting System report and results to junior and college coaches."
Parents are welcome to join at any times below:
FRIDAY, OCTOBER 17: (16U teams only)
9:00am St. Louis 16U / West Michigan 16U
10:30am Madison 16U / Lansing 16U
12:30pm California 16U / HC Dallas 16U
3:30pm New Jersey Titans 16U / POE 16U
5:30pm Esmark 16U
SATURDAY, OCTOBER 18: (16U teams only)
11:30am Arizona 16U / Pikes Peak 16U
1:30pm Omaha 16U / Everett 16U
3:30pm Anaheim 16U / San Jose 16U
*all NAPHL 18U teams will be scheduled during the Omaha showcase in November.