NAPHL, HPHL halfway done at NAHL Showcase
September 20, 2014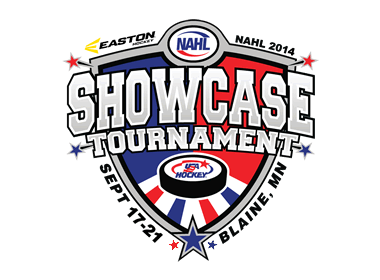 In has been an exciting start to the NAPHL season at the 12th annual NAHL Showcase. Through two days of play the common consensus amongst the scouts and coaches is that the level of play is very good and the cross-over games against the HPHL have been a big hit. Over 330 scouts from the NHL, NCAA and junior teams have checked in.
There are still two more full days to go as team take to the ice again on Saturday and Sunday. Fans can watch all the games live on
FASTHockey
.
Here is a look at how each Division has fared thus far:
18U Division-NAPHL
After two days, only two teams remain undefeated as the New Jersey Jr. Titans and Madison Capitols are both 3-0-0. West Michigan is right behind them with a 2-0-1 record. New Jersey has been the most impressive team to date, outscoring their opponents 24-5. The top five scorers in the division to date are all from the Jr. Titans. Madison, who is new to the league this year, has done it with defense allowing only three goals in their first three games. West Michigan's lone blemish was a shootout loss to Lansing in the first game. Three teams are 2-1-0 after three games including the Pikes Peak Miners, Anaheim Jr. Ducks and HC Dallas. That is followed by the Esmark Stars at 1-1-1. Seven teams are log-jammed in the standings with a 1-2-0 record including the California Titans, Omaha, St. Louis Selects, Bauer-Emerson, San Jose, Pursuit of Excellence and Lansing. Philadelphia and Arizona have both started 0-3.
16U Division-NAPHL
After three games at the 16U level, there is even more parity at the 16U level. Four teams remain perfect after two days of competition. Leading the way is the Anaheim Jr. Ducks at 3-0-0, who have outscored their opponents 17-0 and have yet to allow a goal. Omaha is also 3-0 and have scored 18 goals in three games. Also 3-0 is the MNEPDL Gray team and the Arizona Bobcats. At 2-1 sit the Pursuit of Excellence, who are off to a great start, as well as Lansing, who is also 2-1. Like the 18U Division, there is a log-jam of teams that are 1-2, which include West Michigan, St. Louis, San Jose, Esmark, Everett, Madison, New Jersey and Pikes Peak. California and HC Dallas are both 0-3. Six players are tied for the scoring lead through the first three games including Austin Long and Ethen Frank from Omaha, Justin Dixson from Anaheim, Jared Sanchez from Arizona and Riley Hestwood from Lansing.
18U Division-HPHL
Honeybaked and the Chicago Mission are 3-0-0 after the first two days. Cole Gallant and Garrett Hall are the scoring leaders for Honeybaked, while Lance Herning leads Chicago in scoring. Compuware is 2-1, followed by Little Caesars and Team Illinois at 1-1 and the Chicago Young Americans, who are 0-3.
16U Division-HPHL and At-Large
Last year's 16U USA Hockey National Champion Team Wisconsin looks just as impressive this year as they are off to a 3-0 start. They have scored 24 goals in the three wins and are led by Brock Caufield. The Chicago Mission are also 3-0 with Dominick Mersch and Joey Abate leading the way. Team Illinois and the Chicago Young Americans are both 2-1. At 1-2 is the Minnesota Magicians, Minnesota Elite Development, Honeybaked, Compuware and Little Caesars, and rounding out the field at 0-3 are the Fairbanks Arctic Lions.