Previewing the NAPHL: West Michigan Hounds
September 16, 2014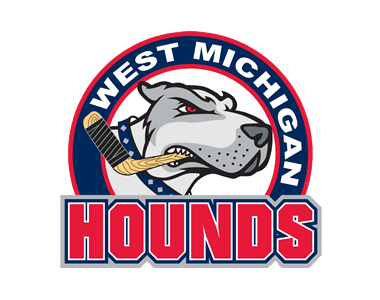 Over the course of the next two weeks, the North American Prospects Hockey League (NAPHL) is proud to feature a new series that will preview each of the 32 teams in the NAPHL for the 2014-15 season. Each day, leading all the way up to the first event of the season at the NAHL Showcase in Blaine, MN, the league will feature a different organization and take a look at both their 18U and 16U teams. There will be a review of last season and a look ahead to this season, which will include an interview with each of the team's head coaches.
West Michigan Hounds 16U
Last season was an up and down year for the West Michigan Hounds. This season they are looking to improve and compete for a playoff spot. Head Coach Brian Tulik had this to say about the upcoming season, "Expectations are very high for this group this season. Our goal is to be in the top 8 of the league and be competing for a league championship at seasons end."
Coach Tulik looks to have a much older team that last season. The majority of his roster is made up of '98 birth year players. The Hounds also return 8 players from last year's team. They return the leading scorer from last season in Jack Sampson and he will be counted on to lead the offense again. They also return goalie Lucas Chapel who saw significant time in net last season and will be expected to have a strong year.
Coach Tulik is eager to get the season started and excited to be competing in the NAPHL. "I think the league is fantastic. The emphasis the league places on development, promotion, and advancement through the NAPHL, NA3HL, and NAHL is excellent. The league staff is very helpful and professional at all times. Every event that we play in is run first class," said Tulik.
Coach Tulik and West Michigan have a very simple philosophy when it comes to their program. "Our goal has always been to grow our program by promoting and developing from within. We want motivated athletes that are willing to work hard to reach their fullest potential regardless of wins or losses," said Tulik.
The West Michigan players spent a lot of time working out this offseason and coach Tulik is hoping this will pay off during the season. "Our goal this off season was to dedicate ourselves to become the best athletes we could. We emphasized the need to get stronger and faster as a team if we were going to compete for a league title. Our guys worked extremely hard and are ready for the season to start," said Tulik.
West Michigan Hounds 18U
West Michigan has been a strong team the past few seasons in the NAPHL. They have made it to the league semi finals in back to back seasons. They were also able to move 10 kids from last year's roster to junior teams this season. Head coach Mark Lawrence is hoping that his team is ready to do more of the same this season. "Our goal this year is to play the same kind of hockey that we have been playing the past few seasons and put ourselves in a position to compete for a league championship," said Lawrence.
This season the Hounds will be an older team. The roster is made up of twelve second-year midget major players and seven first year midget major players. Coach Lawrence had this to say about the make up of his team, "It has been a rebuilding summer for us as we have only four returning players from last season. We had five kids that were able to make the jump up to midget major from our minor team from last season. The majority of our roster is filled with Western Michigan players. We will be relying heavily on our returning players to make big contributions this season. Our returning players include Kyle Berry, Dakota Wilson, Colin Schieman, and Logan Dejong."
West Michigan joined the league during the 2011-12 season and have been very happy to be a member. Coach Lawrence had this to say about the NAPHL, "We prepare all year long for the NAPHL events. We take pride in being in the league and want to play our best in these events. The exposure is the best around and is a great opportunity for our players to be seen."