NHL prospect camps have NAHL, NAPHL, NA3HL alums
August 4, 2014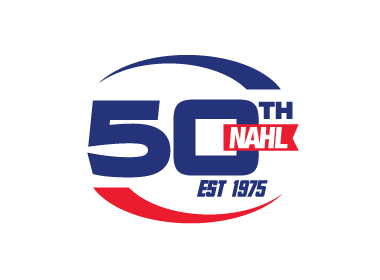 In recent years, the NAHL family of leagues has had dozens of alumni attend NHL Prospect Camps each summer and 2014 was no exception. Most, if not all, NHL clubs held their camps in July and almost 60 alumni of the three leagues are attended NHL prospect camps in the hopes of becoming the next generation of NHL superstar.
It wasn't just alumni of the NAHL, NAPHL and NA3HL that were in camps, but the list included those who played in the NAHL this past season like Wenatchee Wild defenseman River Rymsha. The Dartmouth recruit and Michigan native attended Detroit Red Wings prospect camp.
"Growing up in Michigan, I've been going to Wings games since I was a little kid," said the 17-year-old Rymsha in an interview with NAHL publishing partner Michigan Hockey Magazine. "You watch the Lidstroms and the Kronwalls, all of those guys, you learn from them, and to wear the same jersey as them, it's quite an honor."
Despite being one of the youngest players at the camp, Rymsha was upbeat about the way he performed while Red Wings GM Ken Holland and Assistant GM Ryan Martin, among others, were watching. "I learned that I can compete with the best of the best," Rymsha said. "I learned that you can go to another level even when you don't think you can. Pretty much all of the practices and games were high in intensity," Rymsha said. "Everybody's working hard to try to impress the coaching staff. It's good to get that kind of exposure going into the college season."
The experience could prove to be valuable for the defenseman as he enters his freshman year at Dartmouth, located in New Hampshire. He'll move on to the college ranks after a successful junior hockey career, which included a full season with the Wenatchee Wild in the NAHL in 2013-14.
Rymsha's strong puck-moving ability and high hockey IQ will help him make the leap to college hockey, but advice from his hockey-playing relatives could be useful too. "They just tell me to go out and play my game," he said. "They say to play smart and if you do that, and you compete and play with enthusiasm, then good things can happen."
Here is a list of alumni that attended NHL Prospect Camps in July (years in the NAHL in parenthesis):
Anaheim Ducks
Ryan Faragher, G, Norfolk Admirals (Bismarck Bobcats, 2009-11)
Tom Hilbrich, D, Quinnipiac (Fresno Monsters/Alpena IceDiggers, 2009-11)
Ryan Massa, G, Nebraska-Omaha (Bismarck Bobcats, 2009-10)
Arizona Coyotes
Dysin Mayo, D, Edmonton Oil Kings (Pursuit of Excellence NAPHL, 2011-12)
Boston Bruins
Alex Globke, F, Lake Superior St. (Port Huron Fighting Falcons, 2011-12/Detroit Falcons NAPHL)
Colton Hargrove, F, Western Michigan (St. Louis Bandits, 2009-10)
Calgary Flames
Adam Chapie, F, UMass-Lowell (New Mexico Mustangs, 2010-12/Cleveland Jr. Lumberjacks NA3HL)
Chris Dienes, D, Western Michigan (Traverse City North Stars, 2010-11)
Zach Tolkinen, D, Quinnipiac (Fairbanks Ice Dogs/Owatonna Express, 2008-10)
Brandon Vuic, F, Topeka RoadRunners, 2013-14
Carolina Hurricanes
Ryan Chiasson, D, Dubuque (Corpus Christi IceRays, 2012-13)
Logan Halladay, G, Minnesota (Janesville, 2013-14/Carolina NAPHL)
Chicago Blackhawks
Drew Brevig, D, Ohio St. (Brookings Blizzard, 2012-13)
Mac Carruth, G, Rockford Ice Hogs (Wenatchee Wild, 2008-10)
Adam Clendening, D, Rockford Ice Hogs (USNTDP, 2008-09)
Matt Iacopelli, F, Western Michigan (Springfield Jr. Blues/Texas Tornado, 2011-13)
Stephen Johns, D, Rockford Ice Hogs (USNTDP, 2008-09)
Nick Mattson, D, North Dakota (USNTDP, 2008-09)
Colorado Avalanche
Landon Smith, F, Quinnipiac (Wenatchee Wild, 2010-11)
Dallas Stars
Johnnie Searfoss, F, Utah Grizzlies (Texas Tornado, 2007-08)
Detroit Red Wings
Hampus Gustafsson, F, Merrimack (Amarillo Bulls, 2012-13)
David Johnstone, F, Michigan Tech (Traverse City North Stars, 2008-09)
Luke Sandler, Muskegon (Wichita Falls Wildcats/Fresno Monters, 2011-12)
River Rymsha, D, Dartmouth (Wenatchee Wild, 2013-14)
Edmonton Oilers
John McCarron, F, Cornell (Motor City Machine, 2008-09)
Zach Nagelvoort, G, Michigan (Aberdeen/Soo/Traverse City/Kalamazoo, 2011-13)
Florida Panthers
Evan Cowley, G, Denver (Wichita Falls Wildcats, 2012-13)
Tony Turgeon, D, San Antonio (Bismarck Bobcats, 2007-09)
Los Angeles Kings
Patrick Newell, F, St. Cloud St. (Fairbanks Ice Dogs, 2012-13)
Minnesota Wild
Brooks Bertsch, F, St. Cloud St. (St. Louis Bandits, 2008-10)
Christian Folin, D, Minnesota (Austin Bruins, 2010-12)
Tanner Kero, F, Michigan Tech (Marquette Rangers, 2009-10)
Michael Shibrowski, G, Minnesota (Owatonna Express, 2009-10)
Montreal Canadiens
Sam Anas, F, Quinnipiac (DC Capitals NAPHL, 2010-11)
David Makowski, D, Hamilton (St. Louis Bandits, 2007-08)
Pavlo Padakin, F, Calgary WHL (Fairbanks Ice Dogs, 2011-12)
Mike Szmatula, F, Northeastern (Traverse City North Stars, 2010-11)
Nashville Predators
Devin Williams, G, Erie OHL (Metro Jets NA3HL/Motor City Metal Jackets NAPHL)
New Jersey Devils
Ross Mauerman, F, Providence (Janesville Jets, 2009-11)
New York Islanders
Tommaso Bucci, F, Jr. Islanders (Corpus Christi IceRays, 2012-13)
Donovan Gardiner, D, Lone Star (Lone Star/Texas/Janesville/Kalamazoo, 2012-14)
Eamon McAdam, G, Penn St. (Austin Bruins, 2010-11)
Ottawa Senators
Garrett Thompson, F, Binghamton (Traverse City North Stars, 2007-10)
Philadelphia Flyers
David Drake, D, UConn (Indiana Jr. Ice NAPHL)
Merrick Madsen, G, Harvard (Minot Minotauros, 2013-14)
Anthony Stolarz, G, London OHL (Corpus Christi IceRays, 2011-12)
Pittsburgh Penguins
Bryan Rust, F, Wilkes-Barre Scranton (USNTDP, 2008-09)
San Jose Sharks
Eriah Hayes, F, Worcester (Topeka RoadRunners, 2007-08)
Matt Nieto, F, Worcester (USNTDP, 2008-09)
Alex Schoenborn, F, Portland WHL (Wenatchee Wild, 2012-13/Omaha AAA NAPHL)
St. Louis Blues
Zach Pochiro, F, Chicago AHL (Wichita Falls Wildcats, 2011-12/Nevada Stars NAPHL)
Tyler Parks, G, St. Lawrence (Minot Minotauros/Springfield Jr. Blues, 2011-13)
Vancouver Canucks
Thatcher Demko, G, Boston College (California Titans NAPHL)
Miles Liberati, D, London OHL (Esmark Stars NAPHL)
Washington Capitals
Pheonix Copley, G, Hershey (Corpus Christi IceRays, 2010-11/California Titans NAPHL)
Winnipeg Jets
Ralfs Freibergs, D, Bowling Green (Texas Tornado, 2010-11)
Connor Hellebuyck, G, St. John's (Odessa Jackalopes, 2011-12)
Tucker Poolman, D, North Dakota (Wichita Falls Wildcats, 2011-12)
Know of anyone we missed, send us an
email