NAPHL players picked in record numbers in NA3HL Draft
June 11, 2014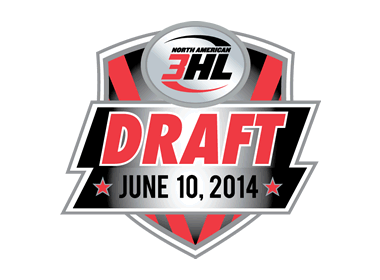 The North American 3 Hockey League (NA3HL) held its annual Entry Draft on Tuesday and an all-time record of 44 players from the North American Prospects Hockey League (NAPHL) were taken in the draft. The NAPHL had 29 players one year ago in the 2013 Draft and 30 players taken in the 2012 Draft.
In addition, 19 NAPHL players were tendered by NA3HL clubs during the 2013-14 season. A grand total of 63 NAPHL players were either tendered or drafted by NA3HL clubs.
Seven NAPHL players were taken in the first round alone. The first NAPHL player selected was Pikes Peak Miners 18U defenseman Riley DeFazio, who was taken 7th overall by the Glacier Nationals. DeFazio has played the last three years in the NAPHL for Pikes Peak.
That was followed in the first round by Esmark Stars 18U defenseman Josef Kittelberger, who went 10th overall to the Southern Tier Xpress. Omaha 18U forward Ryan Cagnoni, who was an All-NAPHL 2nd Team selection this past season, went #11 overall to the Dallas Jr. Stars. Texas Tornado/HC Dallas 18U defenseman Dalton Skelly was chosen with the 15th overall pick by the Topeka Capitals. With the 16th overall pick, the Cincinnati Swords selected Esmark Stars 18U defenseman Ryan Lottes. The Texas Jr. Brahmas selected Atlanta Fire 18U forward Devin Pierce with the 18th overall pick. The final NAPHL player selected in the first round was San Jose Jr. Sharks 18U defenseman Jack Cleaver, who was selected #21 overall by the Gillette Wild.
Round 2: Breezy Point, #36 overall (Mike Klena, D, Esmark Stars 18U); Wisconsin, #51 overall (Austin Wilk, D, California Titans 18U); Peoria, #56 overall (Brennen Miller, F, Texas Tornado/HC Dallas 18U); Topeka, #57 overall (Evan Nyhus, D, Anahiem Jr. Ducks 18U)
Round 3: Wisconsin, #82 overall (Evan Moyse, G, Cleveland Jr. Lumberjacks 18U); Cleveland, #84 overall (Eddie Pelka, D, Cleveland Jr. Lumberjacks 18U)
Round 4: Nashville, #95 overall (PJ Heger, F, West Michigan Hounds 18U); Dallas, #104 overall (Brian Baker, G, Esmark Stars 18U)
Round 5: Dallas, #135 overall (Tyler Doyle, D, Omaha AAA 18U); North Iowa, #138 overall (Carmen Dalesandro, F, Esmark Stars); St. Louis, #148 overall (Rhodes Dolan, D, Omaha AAA 18U); Peoria, #149 overall (Ryan Reader, D, St. Louis Selects 18U)
Round 6: Point Mallard, #156 overall (Brad Reitter, F, Lansing Capitals 18U); Alexandria, #178 overall (Cody Key, F, California Titans 16U); St. Louis, #179 overall (Alex Kielczewski, F, St. Louis Selects 18U); Peoria, #180 overall (Mason Kreuger, F, Omaha AAA 18U)
Round 7: Breezy Point, #192 overall (Ryan Dunner, F, New Jersey Jr. Titans 18U); Dallas, #197 overall (Elijiah Barriga, F, Anaheim Jr. Ducks 18U); Metro, #199 overall (Jake Gwillim, G, Lansing Capitals 18U); Peoria, #211 overall (Nathan Viberg, F, West Michigan Hounds 18U); Topeka, #212 overall (Zachary Wolivar, F, Anaheim Jr. Ducks 18U)
Round 8: Point Mallard, #218 overall (Jacob Champaign, F, St. Louis Selects 18U); Dallas, #228 overall (Paul Boutoussov, F, Anaheim Jr. Ducks 18U); Topeka, #232 overall (Joey Sardina, F, Texas Tornado/HC Dallas 18U); Texas, #235 overall (Joe Hacker, G, New Jersey Jr. Titans 18U); Gillette, #238 overall (Brett Kramer, D, Phoenix Firebirds/Arizona Bobcats 18U); St. Louis, #241 overall (Corey Pelone, F, California Titans); La Crosse, #246 overall (Mick Nisbet, F, San Jose Jr. Sharks 18U)
Round 9: West Michigan, #251 overall (Michael Wood, F, West Michigan Hounds 18U); Dallas, #259 overall (Colin Whitt, D, Texas Tornado/HC Dallas 18U); Cleveland, #270 overall (Mike Zenone, F, Cleveland Jr. Lumberjacks)
Round 10: St. Louis, #293 overall (Tycho Falk, F, Omaha AAA 18U); Helena, #310 overall (Zack Savereide, D, California Titans 18U)
Round 11: Dallas, #321 overall (Zakery Galambos, D, San Jose Jr. Sharks 18U); Pittsburgh, #329 overall (Alex Kalau, F, Anaheim Jr. Ducks 18U)
Round 12: Southern Tier, #351 overall (Richard Mischak, D, Cleveland Jr. Lumberjacks 18U); Dallas, #352 overall (Ted Waddell, D, Lansing Capitals 18U)