Top Prospects halfway through in Geneva
March 29, 2014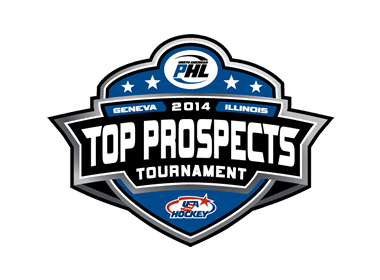 Halfway through the NAPHL Top Prospects Tournament in Geneva, Illinois and Team North has jumped out to a 2-0 record through the first two games. One set of games remain on Saturday night and then the consolation and championship games are played on Sunday morning. Team Great Lakes and Team West are each 1-1 and Team South is 0-2.
Team North
Team North shutout Team Great Lakes 5-0 on Friday and beat Team West 5-2 on Saturday morning. Justin Ketola (Omaha) got the shutout in Game 1 and Joey Lupo (St. Louis) had two goals and an assist. In the Saturday morning game, Mason Kreuger (Omaha) had two goals and an assist in a 5-2 win over Team West. Miles Manson (Omaha) has three assists through two games and Jonathan Dagnal (Esmark) had two goals.
Team West
Team West beat Team South 7-6 on Friday and fell to Team North 5-2 on Saturday. Austin Junger (St. Louis) and Malthe Helt (San Jose) each scored twice and Joe Licata (California) made 26 saves in the 7-6 win over Team South. In the 5-2 loss to Team North on Saturday morning, Hunter Zandee (Pursuit of Excellence) and Zack Savereide (California) scored in the loss.
Team Great Lakes
Team Great Lakes was shutout by Team North 5-0 on Friday, but rebounded with a 4-0 shutout of Team South on Saturday morning. In the 5-0 loss, goalie Jacob Gwillim (Lansing) stopped all 19 shots that came his way, while Hunter Vorva (West Michigan) took the loss, making 15 saves. In the 4-0 win over Team South, Team Great Lakes got goals from Zander Sorenson (West Michigan), Trenton Kulczyk (Lansing), Kyle Berry (West Michigan) and Michael Zenone (Cleveland). Gwillim (Lansing) posted the shutout, making 24 saves.
Team South
Team South was edged by Team West, 7-6 and then shutout by Team Great Lakes, 4-0. In the close loss to Team West, Brennen Miller (Texas) and Joey Sardina (Texas) each scored twice and Jack Moore (Texas) had three assists in the loss. Dalton Behm (Pikes Peak) made 13 saves in the loss. In the Saturday morning game, Behm made 14 saves in the 4-0 loss.