September 20, 2013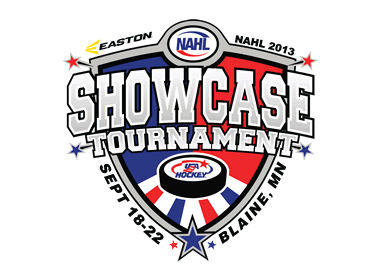 In front of almost 300 junior, NCAA and NHL scouts, the North American Prospects Hockey League (NAPHL) kicked off its fifth anniversary season at the NAHL Showcase in Blaine, Minnesota.
32 teams took to the ice at least once during the opening day and the teams in the 16U Division all played two games.
All NAPHL games at the Showcase can be viewed live on FASTHockey
Click here for an updated scoreboard and boxscores
18U Day 1 recap:
Taking a look at the games, all were competitive with all of the contests being decided by four goals or less on Day 1.
Winners on Day 1 included the Texas Tornado, Pursuit of Excellence, Pikes Peak Miners, Anaheim Jr. Ducks, St. Louis Selects, Lansing Capitals, Omaha AAA and the Cleveland Jr. Lumberjacks.
Brennan Miller and Nate Sepeda, both from the Texas Tornado, each had three points in their first game of the season to lead the 18U Division in scoring. The Tornado are coached by former NHL player Landon Wilson, a veteran of 10 NHL seasons.
Other big producers on Day 1 included Trevor Johnson and Trevor Thornton from the St. Louis Selects, Mason Kreuger from Omaha AAA, Jason Fritsche from Cleveland and Ethan Solat from Pikes Peak.
Day 1 also saw the NAPHL debut of Pursuit of Excellence 18U forward Tyler Benson. Benson, who is 15-years-old, was the 1st overall pick in this year's Western Hockey League (WHL) Bantam Draft. Benson had a goal and an assist in his NAPHL debut.
Two shutouts were posted on Day 1 as Omaha's Justin Ketola and Anaheim's Rock Boynton post were perfect in goal on the first day.
16U Day 1 recap:
The story on Day 1 of 16U competition was the six shutouts posted. The Lansing Capitals won both their games via the shutout thanks to one each from goalies Max Quertemus and Colt Hanks. San Jose's Jacob Acton, Omaha's Cole Weaver, Phoenix's Blake Bjella and Pike Peak's David Fessenden also posted shutouts.
A total of five NAPHL teams started their seasons with perfect 2-0 records on Day 1 of the Showcase. The Lansing Capitals led the way with two shutouts, outscoring their opponents 8-0 on the first day. The San Jose Jr. Sharks also went 2-0 in the first day under new first year head coach Kyle McLaren, who is a veteran of 12 NHL seasons and over 700 NHL games played.
Former NHL'er David Wilkie and his Omaha AAA 16U club are off to a 2-0 start. The defending NAPHL 16U Champions are being lead so far by forwards Tarek Baker and Van Barr. The other teams that went undefeated on Day 1 were the Esmark Stars, who were a 16U Championship finalist last year. The Pikes Peak Miners also went undefeated on Day 1.
In the scoring department, two St. Louis Selects forwards lead the way after Day 1. Shane Quinn leads all scorers with six points, while teammate Austin Rueschhoff has five. Atlanta Fire teammates Tyler Gwyn and Mitch Gedeon also have five points through two games. The players lead the 16U Division with three goals including Malcom Cardwell from Atlanta, Cody Key from the California Titans and Van Barr from Omaha.