Team East wins NAPHL Top Prospects event in Frisco
May 15, 2013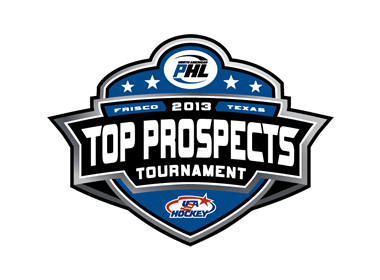 The North American Prospects Hockey League (NAPHL) Top Prospects Tournament finished up this past Monday and Team East walked away with the Championship. East went through the event with a 3-1 record as they defeated Team California, 5-1 in the title game.
It was California that got on the scoreboard first as Troy Loggins (Anaheim) scored six minutes into the game with assists to Anaheim teammates Marcus Mollica and Max Kilkuts. Just over a minute later, East tied the game at 1-1 on a goal from Indiana's Evan Okeley. Greg Johnson (Atlanta) picked up his first of two assists in the game on the goal. Two minutes later, Christopher Wuestneck (New Jersey) made it 2-1 with Jr. Titans teammates Nikita Samoylov and Ryan Price. Towards the end of the period, Pittsburgh's Carmen Dalesandro made it 3-1 with assists to two Viper Stars teammates Trevor Recktenwald and Tristan Ramage.
After no scoring the 2nd period, East scored two more times in the 3rd period as Anthony Tonkovich (Pittsburgh) and Samoylov scored to make the final 5-1.
Danny Kowalski (Pikes Peak) made 12 saves for California and he split the game with Cole Semchak (California) who made 11 saves. Nick Bretzger (Atlanta) stopped all 9 shots that came his way and he split time with Joey Licata (New Jersey) who made 12 saves for the win.
In the consolation match-up, Team Central downed Team Michigan, 5-2. Central got a goal and two assists from both Kole Hudson (Utah) and Hunter Zandee (Pursuit of Excellence). Alex Klaesner (St. Louis), Daniel Nachbar (Phoenix) and Kai Robinson (Pursuit of Excellence) also had goals in the win. Jared Pike (Utah) and Ian Wiljanen (Lansing) had the goals in the loss for Michigan.
Hunter Zandee (3 goals, 2 assists) from Pursuit of Excellence and Nikita Samoylov (2 goals, 3 assists) from New Jersey, shared the Top Prospects Tournament scoring lead, each with five points). Tristan Ramage (Pittsburgh) led all defenseman with three points, which were all assists. Team Central's Jaxson Gosnell (Phoenix) led all goalies with a 2.02 goals against average and a 94.6% save percentage. Atlanta's Nick Bretzger was second.
Over 30 NHL, NCAA, NAHL and other junior scouts were in attendance at the annual event.