T1ER League announces teams, new website for 2023-24 season
September 7, 2023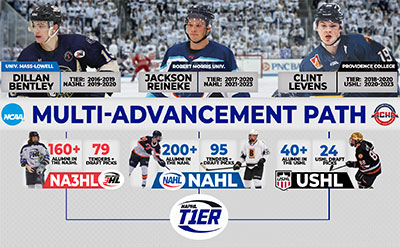 The North American Prospects Hockey League (NAPHL) has announced the T1ER League teams and new dedicated website for the 2023-24 season.
Founded in 2009 and heading into its 15th season, the T1ER League is the premier training ground for development, exposure, and opportunity. The success of teams on the national stage, as well as the success of T1ER players at the next levels of hockey, is further proof that the league is redefining exposure and has become the marquee place to play for elite level players, ages 13-18.
The T1ER League is comprised of the following USA Hockey National Bound registered teams that compete in a full season at highest level for USA Hockey, which includes strategically located and scheduled showcases during the 2023-24 season:
Biggby Coffee AAA, CarShield AAA, Colorado Springs Tigers AAA, Esmark Stars AAA, Indiana Elite, Madison Capitols AAA, Maine Nordiques, New Jersey Jr. Titans, Northeast Generals AAA, Omaha Mastery, Philadelphia Hockey Club, Philadelphia Little Flyers AAA, Seattle Jr. Kraken, Tri State Spartans AAA, Vegas Jr. Golden Knights.
The T1ER League's primary mission is to provide development and exposure opportunities for players as they advance on the path to one day play high level junior and college hockey. Members of the T1ER League get the opportunity to attend some of the most dynamic and highly scouted events. Select events take place during the same time as NAHL events, which usually feature every NAHL, NCAA Division I, and every NHL team along with dozens of junior scouts under one roof.
The T1ER League has enjoyed a record-breaking amount of advancement in recent seasons due to enjoying the opportunities provided by the Multi-Advancement Path to all levels of junior hockey. In the last five years, no other USA Hockey Midget Tier I league has had more players tendered in the NAHL than the T1ER League. In 2023, a total of 95 NAPHL T1ER players were either drafted or tendered by NAHL teams, which set new single-season record. Over 100+ T1ER alumni are currently rostered in the NAHL. In addition, five former T1ER players were selected in the 2023 NHL Draft.
Schedules, scores, and news can be found on the T1ER Leagues new dedicated website at: www.nat1hl.com