NAPHL alum Fowler named USA Hockey Goalie of the Year
June 1, 2023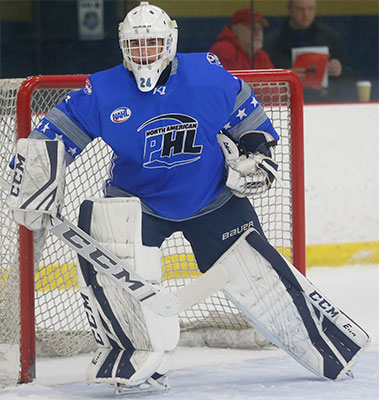 Former NAPHL player Jacob Fowler has been named the 2023 USA Hockey Dave Peterson Goaltender of the Year.
Fowler, who was recently named the 2023 USHL Goaltender of the Year, backstopped the Youngstown Phantoms to the club's first-ever Clark Cup championship, going undefeated in the finals to bring home the title.
A Melbourne, Florida, native, Fowler led all USHL goaltenders with a 2.28 goals against average and .921 save percentage through the 2022-23 regular season. Additionally, he finished the regular season with a 27-9-3-1 (W-L-OTL-SOL) record to lead all USHL goaltenders in wins and was tied for the league-lead in shutouts with five. Fowler also wrapped this year's regular season ranked fifth in saves (1,029).
A seven-time USHL Goaltender of the Week honoree, Fowler was named the Clark Cup Most Outstanding Player and finished the playoffs 8-1-0-0 (W-L- OTL-SOL). He topped all netminders in the playoffs in wins, goals against average (1.36), save percentage (.952) and saves (273) and had one shutout.
Fowler, who was named All-USHL First Team, was also a member of the 2022 U.S. Junior Select Team that won the 2022 World Junior A Challenge in December in Cornwall, Ontario. The Boston College commit posted 1.75 goals against average and .918 save percentage through four games with a perfect 4-0-0-0 (W-OTW-OTL-L) record.
Additionally, Fowler played for Team White in January's BioSteel All-American Game in Plymouth, Michigan, that showcased the top American prospects eligible for June's NHL Draft.
Prior to playing in the USHL, Fowler spent the 2019-20 season in the NAPHL with the Florida Alliance 16U team. He has a 7-0 record during the regular season with a 1.73 goals against average and a .932 save percentage.
He was named to the All-NAPHL 2nd Team and also played in the 2019-20 NAPHL 16U All-Star Game.