NAPHL accepting SHOW applications for 2023-24 season
May 5, 2023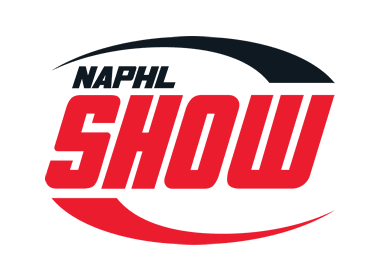 The North American Prospects Hockey League (NAPHL) has announced that membership applications are now being accepted for participation in the NAPHL SHOW League during the upcoming 2023-24 season.
Founded in 2009 and heading into its 15th season in 2023-24, the NAPHL is the premier training ground for development, exposure, and opportunity. The success of teams on the national stage, as well as the success of NAPHL players at the next levels of hockey, is further proof that the NAPHL is redefining exposure and has become the marquee place to play for elite level players, ages 13-18.
The NAPHL's SHOW League is for Tier I and Tier II teams from all over North America looking to gain exposure for their players at showcase events. The goal is to create the best opportunity to showcase and advance players, which has increased the movement of players up the ladder of development from the NAPHL to the NA3HL and NAHL. The SHOW League includes an exclusive tendering system and uses NAHL Central Scouting to help promote players for the NAHL and NA3HL Drafts. The SHOW League also competes in cooperation with the NA3HL Showcase, which is annually one of the most well-attended and scouted events of the entire season for the league, attracting hundreds of college and junior scouts alike.
For the 2023-24 season, SHOW teams will compete in a combination of three league-wide exposure events for 18U, 16U, and 14U SHOW teams. The league-wide showcases will continue to bring everyone together in order to make it easier for the junior and college scouts to attend and evaluate.
2023-24 SHOW Events
November 10-13, 2023, Manchester, NH – This is the first event of the season which takes in place in New England. Located within 2 hours of 50+ NCAA hockey schools (17 NCAA Div. I and 33 NCAA Div. II/III)
December 15-18, 2023, Blaine MN – Partnered with the NA3HL Showcase and which draws over 100 college and junior scouts annually. NCAA Academic and Junior Recruiting seminars will be available for all players and parents to attend
January 12-15, 2024, Troy/Rochester, MI – This event is the SHOW League Championship and takes place during the NA3HL Tender distribution exclusive to the SHOW League. A tournament will be played to crown a champion for each age category and division.
Important SHOW League Details
Divisions, competition and playoff seeding will be determined by a series of data points utilized by the NAPHL Power Rankings
NAHL Central Scouting will be in attendance to these events in order to add additional scouting and exposure opportunities for the players
SHOW League players have access to the NAHL and NA3HL Tendering system that is exclusive only to the NAPHL
The November event is on the east coast within 2 hours of 17 NCAA DI and 33 NCAA DIII hockey schools
The December event is in conjunction with NA3HL Showcase which draws over 100 college and junior scouts
NCAA Academic and Junior Recruiting Seminars will take place in December in conjunction to the NA3HL Showcase
The January Championship event takes place during the NA3HL Tender Distribution exclusive to the SHOW League
A SHOW 18U Top Prospects Event will take place at the NA3HL Fraser Cup which is attended by every NAHL and NA3HL team in a scouting capacity
The combination of event structure, location and partnerships create the best opportunity for player development, exposure and advancement
League website & Real-time statistics dedicated to promoting the SHOW
Live video broadcasting of every SHOW game.
Participants must stay at approved NAPHL hotels
Participants must work in the spirit of partnership with NAPHL initiatives
Applicants must execute such documents as are reasonably necessary to complete application