LA Kings sign NAHL, NAPHL alum Copley to contract
July 14, 2022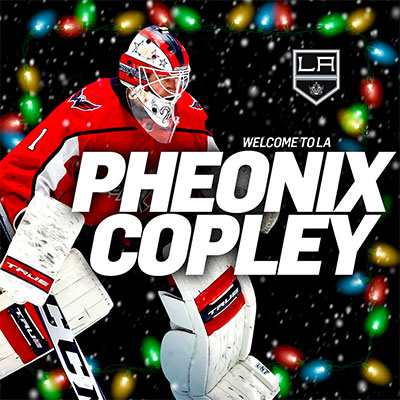 The LA Kings have signed former NAHL and NAPHL goaltender Pheonix Copley to one -year, one-way contract that is worth an annual average value (AAV) $825,000.
Copley, 30, joins the Kings after spending a total of six seasons (2014-15, 2017-22) with the Washington Capitals and two seasons with the St. Louis Blues (2015-17). This past season, the 6-4, 200-pound goaltender appeared in two NHL games with the Capitals, posting a 3.11 goals-against-average and .878 save percentage. He also skated in 35 AHL games with the Hershey Bears, earning an 18-12-7 record with a 2.38 GAA and .913 SV%.
The North Pole, Alaska native has appeared in 31 NHL games, including 29 with the Capitals and two with the Blues, registering a 16-9-3 record with a 2.98 goals-against-average, .900 save percentage and one shutout. He has also appeared in 226 AHL games with the Hershey Bears and Chicago Wolves, earning a 16-24-1 record, 3.12 GAA and .907 SV%. In 17 AHL postseason games, he also collected a 9-7-0 record with a 2.09 GAA and .935 SV%. In 2020-21, he helped the Bears earn the Harry Holmes Memorial Award for AHL best goaltending duo.
The undrafted netminder was signed by the Capitals as a free agent in 2014 after spending two seasons with Michigan Tech in the Western Collegiate Hockey Association. On July 2, 2015, he was acquired by the St. Louis Blues and made his NHL debut the following season on February 27, 2016, against the Nashville Predators. During the 2016-17 season, he was traded back to the Capitals and part of the Capitals 2018 Stanley Cup playoff run.
Copley spent the entire 2010-11 season in the NAHL playing for the Corpus Christi IceRays and was the starting goalie the entire season. He played in 42 of 48 games for Corpus Christi. Copley was 14-23-4 with a 4.17 goals against and .880 save percentage. During his season in Corpus Christi, Copley, would catch the eyes of NCAA scouts.
Prior to that, Copley spent the previous 2009-10 season playing for the California Titans 18U team in the NAPHL during its inaugural season. In 10 regular season games he was 6-1 with one shutout and had a 2.62 goals against and .871save percentage and also helped the Titans capture the first NAPHL 18U Championship.
After a one-year stint in the USHL, Copley then spent two successful seasons at the NCAA Division I level with Michigan Tech.