2022 NHL Draft could be a big one for NAPHL players
July 7, 2022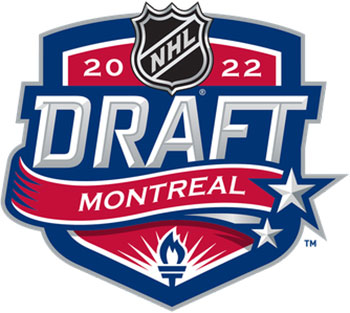 The North American Prospects Hockey League (NAPHL) is hoping for a big weekend in Montreal the next few days as the 2022 NHL Draft is set to go.
The 2022 NHL Draft takes place the next two days on June 7-8 at the Bell Centre in Montreal, Quebec and will be hosted by the Montreal Canadiens.
The 1st round of the draft will take place on Thursday, July 7th (7:00pm eastern, ESPN/ESPN+). Rounds 2-7 will be conducted on Friday, July 8th (11:00am eastern, ESPN/ESPN+). NHL club executives, scouts and coaches will be present on the NHL Draft floor while thousands of fans and hundreds of print, television and radio media are expected to attend.
The NAPHL will have full coverage on any picks on naphl.com, as well as the NAPHL's social media channels.
Players born between January 1, 2002, and September 15, 2004, are eligible for selection in the 2022 NHL Entry Draft. Additionally, un-drafted, non-North American players born in 2001 are eligible for the draft; and those players who were drafted in the 2020 NHL Entry Draft, but not signed by an NHL team and who were born after June 30, 2002, are also eligible to re-enter the draft.
Current and former NAPHL players who are ranked:
Micah Berger, F, Florida Alliance 16U, 2019-20
Seamus Casey, D, Florida Alliance 16U, 2019-20
Emmett Croteau, G, Ontario Jr. Reign 18U, 2019-20
Aiden Dubinsky, D, Florida Alliance 16U, 2019-20
Jack Harvey, F, Gentry Academy 15U/16U, 2018-20
Hobie Hedquist, G, Sioux Falls Power 16U, 2018-20
Connor Kurth, F, Gentry Academy 15U/16U, 2018-20
Reese Laubach, F, Northstar Christian Acad 18U, 2020-22
Cruz Lucius, F, Gentry Academy 15U/16U, 2018-20
Marian Mosko, D, Des Moines Buccaneers 16U, 2019-20
A total of 23 NAPHL alumni have been selected in the past seven years of the NHL Draft.
Entering its 14th season, the NAPHL has proved over the years that the league is a great stepping-stone for development and training for young hockey players looking to gain experience and knowledge to work their way up to the National level. No other USA Hockey Midget Tier I league has had more players play in the NAHL over the course of the last five seasons than the NAPHL, which included over 80+ NAPHL alumni playing in the NAHL during the 2021-22 season.
In total, a total of 86 NAPHL players were either drafted or tendered by NAHL teams for the upcoming 2022-23 season.