NAPHL announces 2021-22 T1ER All-14U Teams, Honor Roll
June 10, 2022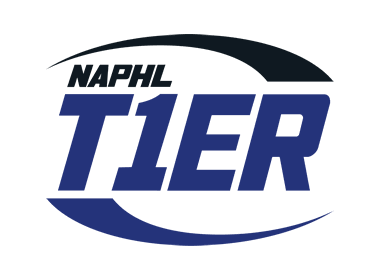 The North American Prospects Hockey League (NAPHL) has announced All-NAPHL Tier 1 14U 1st and 2nd Teams, as well as its Honor Roll in the 14U Division for the 2021-22 season. Consideration and selection are based on player performance in all NAPHL regular season and playoff games throughout the 2021-22 season.
All-NAPHL 14U 1st Team
Forward: Jaxson Andrews, Indy Jr. Fuel
Forward: Dylan Luecke, CarShield AAA
Forward: Mason Minsky, Reapers Hockey Association
Defense: Trey Dopson, Esmark Stars
Defense: Tobias Tilley, Indy Jr. Fuel
Goalie: Norbert Bdzoch, Reapers Hockey Association
All-NAPHL 14U 2nd Team
Forward: Emmet McClaine, Esmark Stars
Forward: Dylan Moran, Reapers Hockey Association
Forward: Konner Powell, Indy Jr. Fuel
Defense: Jack Nolan, Arizona Bobcats
Defense: Josh Zitzman, Reapers Hockey Association
Goalie: Marcus Johnson, CarShield AAA
NAPHL 14U Coach of the Year: Niko Dimitrakos, Reapers Hockey Association
14U Academic Honor Roll
To qualify for the NAPHL Honor Roll, student-athletes must have achieved certain academic standards during the 2021-22 school year and must have been nominated by a coach or member team.
Arizona Bobcats: Blake Burr, Jake Cosper, Nick Downing, Max Edwarda, George Hammond, Mason Knaffla, Jake Lentz, Tygar Lister, Aiden Lynch, Addison Noffsinger, Jack Nolan, Arseny Putikov, Tucker Stott, Timmy Teligades.
CarShield AAA: Joey Buzzetta, Jackson Fox, Dillen Grupe, Marcus Johnson, Cruz Martin, Mitch Nappier, Gavin Simon, Bryce Uglow, Michael Wolken.
Colorado Springs Tigers: Brian White, Tre McClinton, Ethan Moser, John Thien, Chase Ziemba, Thomas Fernyak, Hebert Heser, Nate Bender, Dylan Modernel, Dylan Ness, Josh Ness, Isaiah Massie.
Des Moines Buccaneers AAA: Sean Bowser, Gabe Elliott, Sarvir Jaworski, Jackson Fleming.
Esmark Stars: Noah Frohnhofer, Liam Mahoney, Emmet McClaine, Jacob Miller, Aiden Moskovitz.
Indy Jr. Fuel: Jaxson Andrews, Ryan Boccone, Landon Boccone, Peyton Crerar, Roman Gralak, Tyler Haley, Braydn Holmes, Hunter Jackson, Jacob Moskala, Konnor Powell, Sam Quagliaroli, Tobias Tilley, Trevor Young.
Ontario Jr. Reign: Arick Collander, Ethan Dang, Paul Eisan, Nicolas Hansen, Shawn Haynes, Chengze He, Kaidan Klauminzer, Adrian Morales, Derek Nosenchuck, James Pena, Calvin Ruggiero, Luke Velasco