NAPHL alum Kurth wins USA Hockey Player of the Year
May 31, 2022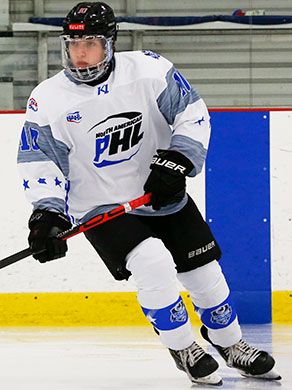 Dubuque Fighting Saints (USHL) forward and NAPHL grad Connor Kurth has been named the 2022 USA Hockey Dave Tyler Junior Player of the Year Award recipient. Kurth becomes the first Fighting Saint since Zach Solow to win the award, who did so in 2017.
The Dave Tyler Junior Player of the Year Award is named after Dave Tyler, who served on USA Hockey's Board of Directors for 32 years. It recognizes the most outstanding American-born player in junior hockey.
Kurth, 18, completed an exceptional career as a Dubuque Fighting Saint with 50 goals and 72 assists in 114 games. He was among the league's most prolific offensive players alongside linemates Stephen Halliday and Ryan Beck this past season with the fourth-most goals, eighth-most assists, and fifth-most points. He fired 217 shots on goal, which finished fifth-most in the league, and finished the year with a 16.1% shooting percentage. He notched 81 points (35 goals, 46 assists) in 62 games during the 2021­–22 season. His +37 rating was tied for the second-best mark in the league.
The Minnesota commit scored points in 44 of 62 games, which accounted for nearly 71% of games this past season. His seven goals and 14 assists on the man advantage contributed to 48.8% of the team's power play offense, which finished sixth-best in the league. Kurth posted 25 multi-point efforts during the 2021–22 season.
"It's all credit to my teammates. We had an amazing group this year. Playing with Stephen Halliday every game, Ryan Beck, Mikey Burchill, and a bunch of others, they all helped. It was easy to have success with this team," Kurth said. "It's obviously a huge honor to be chosen for this award. It's a great list of guys that have won It before. I'm glad I got to do with a great organization like the Dubuque Fighting Saints. I'll always treasure my time here."
He received recognition from the USHL on several occasions, having played in the 2022 BioSteel All-American Game on January 22, 2022, was a 2020–21 USHL Second Team All-Rookie honoree, and was named the 2020–21 USHL Scholar Athlete and was an All-Academic Team honoree. Kurth was named USHL Forward of the Week in Week 6 of the 2021–22 season where he led all scorers that week with six points in two games. Lastly, he was ranked 209th among North American skaters on NHL Central Scouting's Final Rankings list.
"It has been truly exciting following Connor's growth during his two seasons in Dubuque. He is a great young man who shows up with a smile on his face every day," said Fighting Saints GM and President of Hockey Operations Kalle Larsson. "This is a major award, and we are proud of Connor and his family for this achievement. He is a great example of what we want a Fighting Saint to be on and off the ice. We are excited to follow his career at the University of Minnesota and beyond."
He was drafted in the eighth round, 111th overall by the Saints in Phase I of the 2019 USHL Draft. He received attention from NHL Central Scouting ahead of the 2021 NHL Draft, as he was ranked 203rd among North American skaters in their final rankings.
Kurth lead the NAPHL in scoring during the 2019-20 season with 72 points in 21 games played on 32 goals and 40 assists while playing for the Gentry Galaxy, who won the NAPHL's 16U Dixon Cup in 2020.
During Gentry's run to the title, Kurth led the NAPHL in playoff scoring as well, recording 23 points in just five playoff games. He was also selected to and played in the NAPHL 2019-20 16U All-Star Game where he was also named the game's MVP.
During the 2018-19 season, Kurth played in the NAPHL for the Gentry's 15U team, where he posted 29 points in 13 NAPHL games.
"I had the chance to play for Oliver David, Greg Brown, Evan Dixon, and Justin Hale. It was easy to be up for every game and every practice with them. That plays a big key in being ready and having the most success you can in having the right energy around the rink all the time." Kurth added.
Kurth is committed to the University of Minnesota, where he will join the Golden Gophers as a freshman this upcoming season.