Northeast forward Keefer makes NCAA DI commitment
February 8, 2022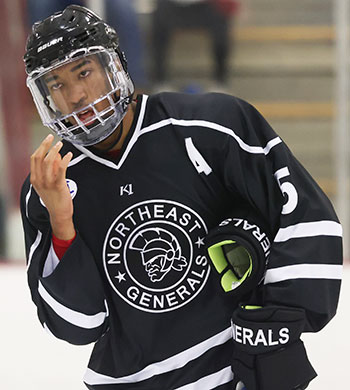 The Northeast Generals of the North American Hockey League (NAHL) are excited to announce that veteran forward and Assistant Captain Brent Keefer has committed to play NCAA Division I hockey at Army-West Point in the Fall of 2022.
Keefer, 20, joined the Generals in November of 2020 and has been an electrifying presence in the line-up ever since. So far this season, the 6'0/170 lbs. native of Colorado Springs, CO, has 15 goals and 22 assists for 37 points in 37 games played, including 5 game winning goals.
In 39 games last season, Keefer scored 8 goals while adding 12 assists for 20 points. This season Brent's improvement has been amazing to watch.
"Brent is such an amazing young man. He has bought into what we are doing here from day 1 and we are really excited for him to play for such a prestigious program such as West Point. We are really happy that he will get to play for Coach Riley and Coach McKelvie, who are two of the best coaches in the business," said Generals Head Coach Bryan Erikson. "Brent has matured a ton as a player and a person in his two years here and developed into a tremendous leader. His hockey IQ is off the charts as is his compete level. I am just so proud of Brent. Just a great kid that I couldn't be happier for."
Keefer is another great example of the NAPHL to NAHL ladder of development. Keefer played in the NAPHL for three seasons, which included the 2016-17 season with the Colorado Springs Tigers 16U team and the 2017-18 and 2018-19 seasons with the Rocky Mountain Roughriders.
General Manager Matt Dibble added, "I am happy for Brent and happy for West Point. It's always good to see a worthy player commit to playing division one college hockey, but when it's West Point it feels even better. Brent has been a huge part of what we have built in Attleboro, and we expect him to be a huge part of an established program there."
The Generals and West Point will continue to build a relationship that has been great for both programs as their Captain Colin Bilek was a standout General for 2 years.
Click here for an updated NAHL to NCAA commitment list