Former NAPHL players recognized by NHL Central Scouting
October 21, 2021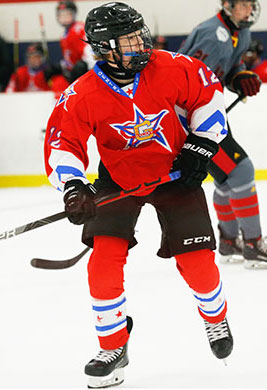 The North American Prospects Hockey League (NAPHL) is pleased to announce that several former players with NAPHL ties have been recognized by NHL Central Scouting.
Five players with NAPHL ties have been recognized on the National Hockey League's (NHL) 'Prospects to Watch' list for 2022 draft-eligible players with the release of NHL Central Scouting's preliminary list of players to watch in North America and Europe.
The lists, comprised of "A," "B" and "C" players for the upcoming season in each of the major junior hockey leagues, are sent to NHL team scouts for the purpose of tracking the top draft-eligible players entering the 2021-22 season. All "A" skaters have been identified as potential first-round picks, while "B" players are considered second- or third-round candidates. The players on the "C" list are thought to be fourth-, fifth- or sixth-round possibilities. Central Scouting's preliminary rankings will be revealed in November.
Former NAPHL players on the List
B-Seamus Casey, D, NTDP-18 Team (Florida Alliance 16U, 2019-20)
B-Cruz Lucius, F, NTDP-18 Team (Gentry Academy 15U/16U, 2018-20)
C-Aiden Dubinsky, D, Tri-City Storm (Florida Alliance 16U, 2019-20)
C-Barrett Hall, F, Gentry Academy (Madison Capitols 18U, 2019-20)
C-Jack Harvey, F, Chicago Steel (Gentry Academy 15U/16U, 2018-20)
Founded in 2009, the NAPHL is currently in the middle of its 13th season in 2021-22. The NAPHL is the premier training ground for development, exposure, and opportunity. The success of teams on the national stage, as well as the success of NAPHL players at the next levels of hockey, is further proof that the NAPHL is redefining exposure and has become the marquee place to play for elite level players, ages 14-18.
The NAPHL had two former players selected in the 2021 NAHL Draft. During the past eight NHL Drafts dating back to 2013, a total of 30 NAPHL alumni have been selected.
Famous NAPHL alumni now playing in the NAHL include Toronto Maple Leafs forward Auston Matthews, Colorado Avalanche forward Tyson Jost, Vancouver Canucks goaltender Thatcher Demko, and Boston Bruins goaltender Jeremy Swayman.