Esmark 18U forward Dezort signs NAHL tender
March 24, 2021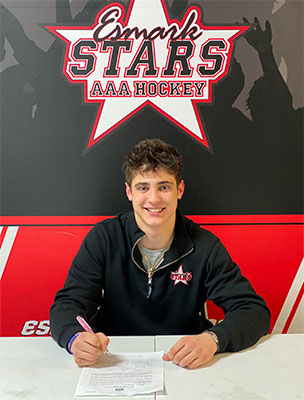 The Esmark Stars AAA Hockey Club of the North American Prospects Hockey League (NAPHL) are pleased to announce that 18U forward Dominic Dezort has signed a NAHL tender agreement with the NAHL's expansion franchise El Paso Rhinos of the South Division.
A native of Cranberry Township, PA, the 18-year old senior at North Catholic High School has skated for the Stars for three seasons, two seasons with Esmark's U18 team and one season with their 16U team.
During the 2020-21 season, Pazo (6'0", 165 lbs.) registered 22 points (9 goals, 13 assists), including three power play goals, one shorthanded goal and one game-winning-goal, in 20 regular season NAPHL games and 2 points (2 goals), including one power play goal and one game winning goal in five NAPHL Dixon Cup Playoff games for the U18 AAA Stars. He was also selected to play in the NAPHL's All-Star game, where he scored two points, a goal and an assist, for Team Matthews.
Overall to date, Dezort has registered 60 points (27 goals, 33 assists), including 7 power play goals and 2 shorthanded goals, in 65 games played.
During the 2019-20 season, Dezort registered 18 points (7 goals, 11 assists) in 16 regular season NAPHL games, including 2 game winning goals, and 4 points (3 goals, 1 assist) in five NAPHL Dixon Cup Playoff games for the U18 AAA Stars. Overall, he registered 49 points (21 goals, 28 assists), including 3 power play goals and a +36 plus/minus rating on the season in 62 games played, helping lead Esmark's Midget Major squad to the Mid-American District Championship and a spot as District Champions in the 2020 USA Hockey 18U Tier I National Championships.
During the 2018-19 season, Dezort registered 15 points (7 goals, 8 assists), including 3 power play goals, 1 shorthanded goal, and 1 game winning goal in 15 NAPHL regular season games and 4 points (1 goal, 3 assists) in four NAPHL Dixon Cup Playoff games for the Stars U16 AAA squad. Overall, he registered 33 points (11 goals, 22 assists), including 5 power play goals and 1 shorthanded goal in 48 games played for Esmark.
"Dominic is a hard working player who we utilize in all situations," said Esmark 18U head coach Dave Kosick. "He mixes a true blue collar work ethic with a high skill set, and brings it to the rink every time."
"He will be a solid addition to an expansion Rhino's club," Kosick added. "His versatility of roles will be an important asset to the team."
Dezort is the sixth Esmark player to sign a tender with an NAHL club, and the seventh Esmark player overall to sign a Junior A tender offer, thus far during the 2020-2021 season.
He joins teammates Nathan Dickey, goaltender, Kenai River Brown Bears; Ryder Brophy, forward, Lone Star Brahmas; Yahor Ramanau, defenseman, Wichita Warriors; Michael Felsing, forward, Minnesota Wilderness; and Zachary Stoner, Johnstown Tomahawks, in signing tenders with NAHL Junior A clubs for the 2021-2022 season.
Click here for a list of 2020-21 NAPHL tenders
A tender is a contract, of sorts, a player signs announcing his intentions to play for that particular NAHL team and that NAHL team only. Once a player signs a tender with an NAHL team, his playing rights belong to that team within the NAHL and he may not be recruited by any other NAHL team. Each team is granted ten (10) tenders, which include two (2) tenders exclusively used on players from the NAPHL - plus or minus any trades - which became active on Nov. 1. Tendered players are not eligible for the 2021 NAHL Draft.