NAPHL concludes event in Texas
November 17, 2020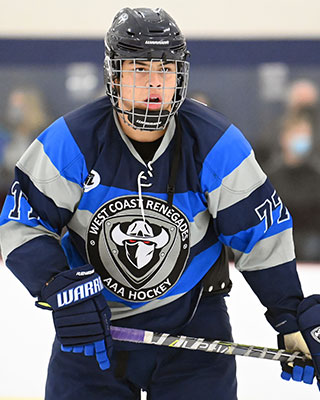 The NAPHL concluded its fifth event of the 2020-21 season in North Texas on Monday with seven games on the final day in the 18U, 16U, and 15U Divisions as the Tier 1 West Conference concluded play.
The event was a rousing success with competitive games across the board in the Tier 1 and Showcase Divisions at the four StarCenters in Farmers Branch, Frisco, McKinney, and Plano.
Monday Recaps
18U Division: There were three 18U Tier 1 games on Monday. In the opener, the guest Dallas Stars Elite got an overtime goal from Ben Tobey as they took down the Northwest Stars, 3-2. Stars goalie Carson Van Winkle played well in the loss, making 37 saves. The Colorado Springs Tigers took home a 1-0 win over the Arizona Bobcats as Camden Pendleton made 18 saves in the shutout and Marc Fletemeyer scored the lone goal of the game. Caleb Wall made 25 saves in the loss for the Bobcats. In the final game of the event, the West Coast Renegades got goals from five different players in a 5-2 win over the Ontario Jr. Reign. Renegades goalie Gabriel Poyer made 26 saves in the win.
16U Division: in the 16U opener on the final day, West Coast Renegades forwards Yovanni Flores and Luke Anthony each scored twice in a 5-4 win over the Ontario Jr. Reign. Brady Porter also had a goal and an assist for the Renegades. Gavin Mears had a goal and two assists in the losing effort for Ontario. In the second game, behind two goals from Weston Villers, the Colorado Springs Tigers edged the Arizona Bobcats, 4-3. Tigers goalie Kaeden Edstrom made 32 saves in the win. Bobcats goalie Connor Dumensnil made 34 saves in the loss. In the finale, the Northwest Stars got a 16-save shutout from Jo Ashton Poage in a 4-0 win over the Madison Capitols. Ethan Beane, Bryce Johnson, Kaden Shahan, and Keagan Miciak all scored for the Stars. Braydon Garnhart made 44 saves in the loss for Madison.
15U Division: In the lone 15U game on Monday, the Madison Capitols topped the Arizona Bobcats, 5-2. The win moved the Capitols into a tie for 3rd place in the 15U Division. Wyatt Farrell scored twice for Madison and Bronson Sabol, Cole Schreiber, and Owen Meyer also scored. Isaiah Anderson made 16 saves in the win. Parker Stepien and Sheldon Wilson scored for Arizona and Aiden Bizwanger made 29 saves in the loss.