Tahoe Prep Academy donates time to fight child hunger
September 9, 2019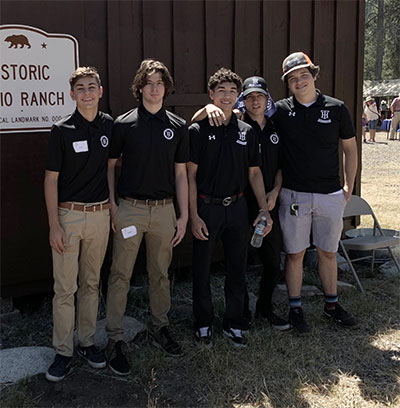 With just a week in South Lake Tahoe under their belts, Tahoe Prep Academy, who are members of the NAPHL's Prep Division, saw their players participate in their first community volunteer event helping out with Bread & Broth's Burlap & Denim fundraiser.
The event, a country western BBQ held at the historic Celio Ranch, located just down the road from the Tahoe Prep Academy's dorms, supports the charity's "B&B 4 Kids Summer Program," which strives to provide food for youth in need during the summer when school lunches are unavailable.
While Tahoe Prep Academy is developing young athletes and helping them achieve their athletic and academic goals it's not just about the hockey, TPA prides itself on developing even better young role models in the community. This "food for the soul" helps remind athletes of how lucky they are to attend a prep academy and hone their craft every day.
Bread and Broth is run by a staff of volunteers at South Lake Tahoe's Saint Theresa's Church. The event featured a full tour of Celio Ranch, the donated host site, as well as selfie booths, horseshoes and corn hole games, and a full BBQ brought over by the Tahoe firefighters. TPA players helped set up, tear down, and participate in these events and activities on a day off, which came directly after their development camp concluded.
"We are very blessed to be able to play the sport we love at a high level and be supported by our families and coaches each day to make that happen," said Prep level Captain Cade Schieflbien. "It's important to remember that others are not as fortunate as we are. It was great after our development camp to get out into the community and do our part in supporting those less fortunate than us."
Tahoe Prep Academy players are more than meets the eye. Giving back to the community while developing skills, working hard on academics, and enjoying their own social time with students from South Tahoe High School takes a special type of student athlete.