NAHL announces 18U Top Prospects Tournament during Robertson Cup
April 29, 2019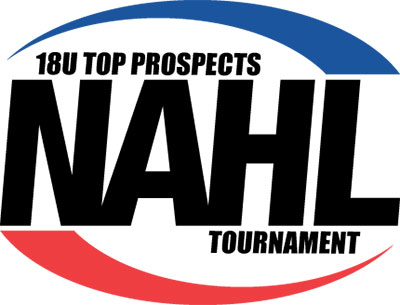 The North American Hockey League (NAHL) is pleased to announce that for the second straight season it will host an 18U Top Prospects Tournament, bringing together some of the top hockey talent from seven different hockey organizations, which will be held in cooperation with the 2019 NAHL Robertson Cup Championship.
The NAHL 18U Top Prospects Tournament consists of ten different teams made up of 18U players, including two from the North American Prospects Hockey League (NAPHL), one from the North American 3 Hockey League (NA3HL), two from the Tier 1 Elite League (T1EHL), one from Michigan Tier I AAA, one from Minnesota High School Hockey, one from the Atlantic Youth Hockey League (AYHL), and one European stars team.
The event will take place from May 10-12, 2019, at Fogerty Arena in Blaine, Minnesota. Each team will consist of a 20-man roster (12 forwards, 6 defensemen and 2 goalies). 200 total players will be spread amongst the ten teams, who will play in four games each during the event, which will include three round-robin games, followed by consolation and championship games.
"This is another great opportunity for players that have aspirations of playing in the North American Hockey League and beyond as we continue to add to our event structure. We are excited to partner with a variety of leagues for the second straight season to provide some incredible exposure for some of the best prospects to play front of a large number of scouts and coaches who will be attending this event. Combined with the NAHL's Robertson Cup Championship, as well as our NAHL Combine, the NAHL 18U Top Prospects Tournament adds to an already exciting event," said NAHL Director of Player Personnel and NAPHL Director Tony Zasowski. "This collaborative effort is one that is for the good of the players, and will add to an already exciting weekend."
Over the past three seasons, the NAHL has hosted the Robertson Cup National Championship in the state of Minnesota (2016-Edina, 2017-Duluth, 2018-Blaine). Doing so has not only brought everyone to a central location to compete for the oldest junior hockey trophy in the United States, but it has also drawn the interest of scouts. Over 100 NHL, NCAA, and NAHL scouts now annually attend the Robertson Cup, with dozens NAHL players making an NCAA commitments following the event each season.
In addition to both the NAHL Top Prospects Invitational Tournament and the NAHL Robertson Cup Championship, there will also be a NAHL Combine during the five-day event. The NAHL Combine is an innovative and unique event designed to provide exposure and education for hockey prospects that strive to play junior hockey in a premier league like the NAHL. The event will be for players born in 2003-06 that will be introduced to and provided with a weekend that involves the 'NAHL Experience,' which will consist of competitive hockey, education of the future levels of hockey, academic preparation for NCAA hockey and exposure to professional, college, and junior scouts. For more information on NAHL Combines, please visit nahl.com
The Roseville Vistors Association is a proud partner of the 2019 NAHL Robertson Cup Championship. "The Roseville Visitors Association is honored to partner with the North American Hockey League to host teams and spectators in our community. Hockey is a big tradition in Minnesota and we're delighted to be part of the Robertson Cup" says Shannon Thomasser, Director of Sales of the Roseville Visitors Association.
NAPHL East
David Reduzzi, G, CarShield
Joe Solimando, F, CarShield
Trey Walton, D, CarShield
Dustin Geregach, D, Esmark
Dillan Bentley, F, Madison
Oldrich Virag, F, Esmark
Chase Morgan, D, CarShield
Simon Ellingson, F, Madison
Lucas Coon, F, Shattuck-St. Mary's
Travis Hensrud, F, Thunder Bay
Christian Veneruzzo, F, Thunder Bay
Kaleb Ross, D, Shattuck-St. Mary's
Josh Silverman, F, Shattuck-St. Mary's
Gareth Aegard, D, Thunder Bay
Sean Sullivan, D, Madison
Jazz Krivstov, F, Shattuck-St. Mary's
Mike Deeba, F, CarShield
Peter Hannula, F, Thunder Bay
Jack Michels, F, Madison
Jordan Smith, G, Thunder Bay
NAPHL West
Brandon Benson, G, Sioux Falls
Bryce Fetzer, D, Wenatchee
Braeden Bartoo, F, Sioux Falls
Cam Duncan, D, Rocky Mountain
Dexter Corley, D, Everett
Jack Saavedra, F, Sioux Falls
Riley Ott, F, Wenatchee
Zach Langus, D, Colorado Springs
Jared Parks, F, Florida
Lev Bure, F, Colorado Springs
Jerod Shuter, F, Rocky Mountain
Truman Hirschy, F, Arizona
Christian Sorensen, F, Nashville
Brett Reed, F, Sioux Falls
Zach Purcell, F, Rocky Mountain
Noah Decker, F, Rocky Mountain
Tylor Greene, F, Colorado Springs
Chris Hedgecoke, D, Arizona
Keith Schenkel, D, Sioux Falls
Parker Rey, G, Esmark
NA3HL
Sam Frechette, F, L/A
Alex Rivet, F, L/A
Marcus Cook, F, Binghamton
Ryan Muckenstrum, F, Mid Cities
Kolye Bankauskas, F, Northeast
Matt DeRosa, F, Rochester
Abe Laggis, F, Helena
Luke Hartge, F, Bozeman
Parker Mara, F, Texas
Tyler Blanchard, F, Texas
Connor Bennett, F, Peoria
Joseph Wiczek, F, Coulee Region
Blake Dangos, D, St. Louis
Jack Flattum, D, Granite City
Hank Nagel, D, North Iowa
Connor Frye, D, Missoula
Ryan Payne, D, Milwaukee
Evan Junker, D, North Iowa
Mikael Foucher, G, St. Louis
Gunner Snyder, G, Coulee Region