Sioux Falls 16U forward Pasternak signs in WHL
January 23, 2019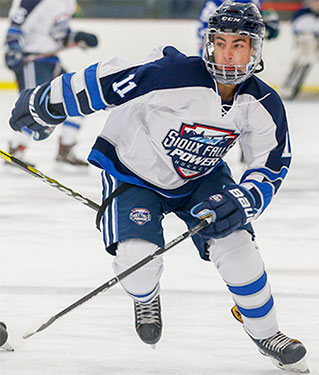 The Sioux Falls Power Hockey Tier 1 Program of the North American Prospects Hockey League (NAPHL) is proud to announce that 16U forward
Dawson Pasternak
of Winnipeg, Manitoba, has signed with the Portland Winterhawks in the Western Hockey League (WHL).
"Dawson has had a big first half of the season and I expect him to be even more dominate in the second half. He is an elite playmaker with high-end skill who approaches the game with a resilient effort," said 16U Head Coach, Noelle Needham.
Pasternak, a 5'7", 155lb right-handed forward, is in his first season with the 16U Sioux Falls Power team. In 32 games, Pasternak leads the team with has 13 goals and 37 points, which included 21 points in 16 NAPHL games played this season.
"As a program, we are excited for Dawson to have this opportunity with the Portland Winterhawks and have no doubt he will thrive there. They are bringing a great young man into their organization," said Sioux Falls Power GM, Matt Tobin.