NAPHL crowns Prep and Showcase Division Champions
January 22, 2019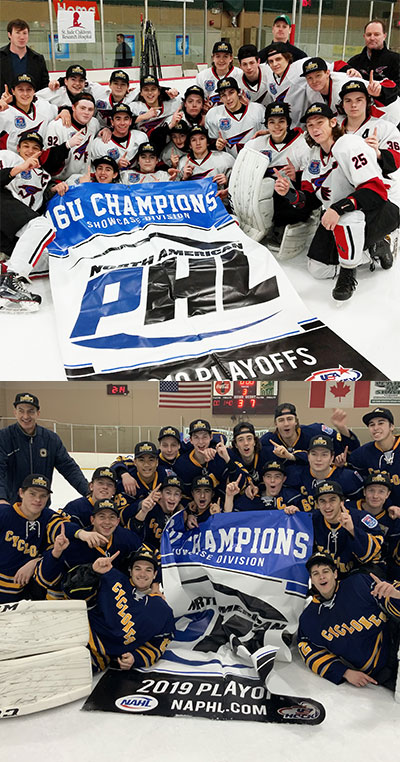 The fifth NAPHL event of the 2018-19 season concluded on Monday, January 21st in suburban Detroit, Michigan.
The day was filled with drama as the NAPHL crowned its 2019 Prep and Showcase Division Playoff Champions, along with the conclusion of the regular season in the High Performance and Elite Divisions.
Here is a look at what happened the final day...
Prep Division
The Prep Division also named its inaugural champion after a typical dominant display by NorthStar Christian Academy, who topped the Pilot Mound Buffaloes 5-0 to finish a perfect 13-0 campaign in 2018-19. Collin Solderholm picked up the shutout victory as Truett Olson scored twice to lead NorthStar to its third shutout in six games during the 2019 Prep playoffs.
Showcase Division
The NAPHL crowned its 2019 Showcase Division Champions at both the 16U and 18U levels on Monday with a pair of dominant performances from the respective victors.
Chesterfield and Naperville battled it out for the 16U title, with the Falcons ripping off a 6-0 shutout to take the championship. Gage Vierzba led with a goal and two assists in the contest, while netminder Mac Beatrice posted a 21-save shutout.
The 18U title tilt also saw plenty of offense as Anaheim and Geneva combined for 10 goals in what ended as a 7-3 win for the Cyclones. Geneva held a 2-1 advantage after a tight-checking first 20 minutes, but rattled off four unanswered tallies in the following 25 minutes to shut down the Ducks. Gabriel D'Amico's 2-2--4 performance stood out from a number of solid Geneva showings, including a goal and an assist each from Mateuse Sak, Jacob Carlson, Ryan Allamian and Zach Lupori.
High Performance/Elite Divisions
With the 2018-19 campaign set to turn the calendar to playoff season in February, several Tier 1 teams at both the 16U and 18U levels took the ice on the final day of action in Troy.
The 16U Alaska Oilers capped off their High Performance Division-winning season with a 3-1 win over Esmark, led by Nikita Asylaev's hat-trick, Keiton Kline guided Everett to a 2-1 win over Valley Forge with his game-winner in the shootout, Carshield rode two Will Schuster goals -- including the game-winning marker -- to a slim 3-2 win over Madison and Rocky Mountain's Jackson Dylla turned aside 36 of 36 shots in net behind two goals from Hunter Hawkins as the RoughRiders topped Sioux Falls 2-0 to head into February's championships on a high note.
Both the High Performance and Elite 18U divisions were sealed on Sunday, as Meijer and Wenatchee took top spot in both groups. Monday, though, saw Sioux Falls, Rocky Mountain, Everett and Esmark each notch wins in High Performance play. The Power upset Meijer 2-1 after a pair of second-period goals, Jonah Henderson's two goals paced the RoughRiders 3-2 defeat of Carshield, Everett's Eugene Lee shut the door on all 25 Madison pucks as the Silvertips won 3-0 and Dustin Geregach bagged a four-point outing as the Stars held off a Valley Forge comeback bid to take a 6-3 victory.
The 16U and 18U squads will next hit the ice in playoff action next month, once again in Troy, MI.