Showcase, Prep Division Apex Learning Peak Performers from December announced
December 26, 2018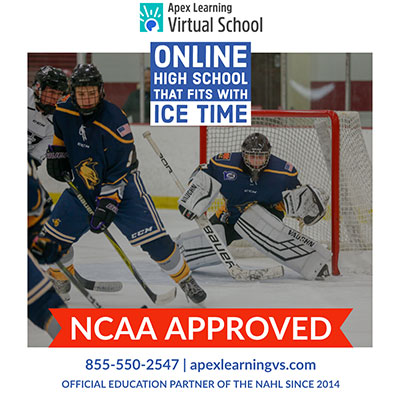 The North American Prospects Hockey League (NAPHL) announced its Apex Learning Virtual School Peak Performers for Prep and Showcase division standouts in the months of November and December. The players were selected based upon their performance at the fourth NAPHL event of the season, which took place in Blaine, Minnesota from November 30-December 3, 2018. Stats were based on ALL games played.
18U Showcase Apex Peak Performer (Offense) – Nicolas Coppola, Mission Arizona
Coppola got rolling quick as the Showcase and Prep divisions hit the ice at the end of November, notching 2-1—3 against Romeoville on Nov. 30 and concluding the fourth event with three multi-point outings and a total of 5-6—11 in four games. His crowning moment came on Dec. 1, as he erupted for 2-3—5 against Saint Mary's in an eventual 9-1 win for Mission. Coppola now ranks tied for first with nine markers on the year, alongside a second-ranked 15 points in eight games.
18U Showcase Apex Peak Performer (Defense) – Joe Schulze, Affton Americans
After a pointless game on Nov. 30, Schulze found his rhythm in a big way with a hat-trick — including the game-winning goal — and a helper on Dec. 1 to double his point-production in a single game. He then followed that up with another assist in a later game that day and lit the lamp once more on the 2nd to finish with 4-2—6 in four games during the fourth NAPHL event to pace 18U Showcase blueliners.
18U Showcase Apex Peak Performer (Goaltender) – Reid Peterson, Geneva Cyclones
Peterson took two starts at the fourth event and was perfect between the pipes, facing down 30 of 30 total shots on the weekend to earn his second and third consecutive shutouts as he backstopped his team's victories. In four total appearances this season, Peterson has racked up a stingy 0.98 GAA, .948 save percentage and 73 saves on 77 total shots.
18U Prep Apex Peak Performer (Offense) – Brett MacNicoll, Lake Tahoe Academy
MacNicoll was seemingly everywhere in December, stretching his goal streak from two to six straight games and rattling off three 3+-point showings in four games along the way. He kicked off the month with 3-1—4 across two games on Dec. 1, and only got hotter from there. MacNicoll recorded another 1-2—3 on the 2nd and a personal single game-high 3-3—6 on the 3rd as Lake Tahoe looked to keep up with high-flying Northstar. MacNicoll now boasts 10-6—16 on the year, which leads all Prep players in goals and ranks fourth in points.
18U Prep Apex Peak Performer (Defense) – Luke Anderson, Northstar Academy
Anderson broke out in December, doubling his previous three total points in his first action this month and logging three straight multi-point showings along the way. Northstar continued to steamroll opponents in December, and Anderson was sure to get in on the action with three assists on Dec. 1, two more on the 2nd and a goal and an an assist on the 3rd to nearly quadruple his previous production. Anderson's goal on Dec. 3 also stood as the game-winner in a tilt against PIlot Mound.
18U Prep Apex Peak Performer (Goaltender) – Connor Edwards, Fountain Valley
Fountain Valley's Connor Edwards saw action in two December matchups, winning both and stopping 47 of 49 pucks in the process. Both contests were decided by a 2-1 scoreline, highlighting the importance of Edwards' work in both. The netminder has posted a .938 save percentage or higher in each of his three starts this season, allowing just one goal in each game for a GAA of 1.01.
16U Showcase Apex Peak Performer (Offense) – Benjamin Zimmerman, Littleton Hawks
Zimmerman was a key contributor for the Hawks at the fourth event, nabbing 4-5—9 in four games with three multi-point efforts in that span. The forward particularly starred on Nov. 30 as his team took the ice twice, bagging three goals and two assists on the day. Dec. 2 saw him at it again, as Zimmerman potted another goal, this time shorthanded, and three helpers to stretch his impressive point total to 5-6—11 in just six games on the year. Zimmerman's nine points led all 16U skaters at the fourth event, outpacing Ethan Beaumont of Romeoville by a single point.
16U Showcase Apex Peak Performer (Defense) – Will Nelson, Chicago Bruins
Nelson carried over his October production that earned him Peak Performer honors in that month to again earn the nod for his work at the fourth event. The Bruins' standout blueliner logged points in three of their four matchups, posting a goal and an assist in two of those and another helper in the third. He also bagged a game-winning goal on Dec. 1 and picked up just four PIMs despite heavily featuring on Chicago's blue line. Nelson continues to lead all 16U Showcase defensemen with 4-5—9 on the year, a 1.13 PPG pace.
16U Showcase Apex Peak Performer (Goaltender) – Michael Svoboda, Chicago Bruins
Svoboda was perfect for Chicago in a pair of starts against the Affton Americans and Highland Park Falcons, stopping 23 of 23 shots to nab his second and third straight shutouts in NAPHL play this season. Svoboda was especially key in defeating the Falcons, as the two teams needed overtime to settle a 0-0 deadlock. Svoboda came out the winner in the goaltenders' duel thanks to 15 saves and Conor Handley's OT winner. The sterling netminder now boasts a GAA of just .50 and a .960 save percentage on the year and has not allowed a goal since Oct. 19.
The next NAPHL event of the 2018-19 season will take place from January 18-21, 2019 at the Troy Sports Center in Troy, MI.