Knights forward Kidney makes NCAA commitment
June 18, 2018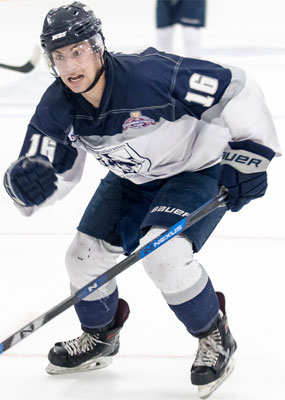 When the NAHL's Wilkes-Barre/Scranton Knights took Matt Kidney in the first round of the 2016 NAHL Entry draft they knew they were getting an important piece for their future. This week, Kidney committed to play NCAA Division III hockey at Salve Regina University, a member of the Coastal Commonwealth Conference. The Seahawks are coming off a banner year that included a DIII National Championship appearance.
"I think what sold me was Coach Klann," said Kidney of Salve Regina's now second-year head coach. "I've heard a lot of good things through the people I talk to and in his first year with Salve, he took them to a national championship. Going to college, a big thing for me is winning and getting a good education, and I think Salve has both of those things."
Zech Klann was named DIII coach of the year by USCHO.com, guiding the Seahawks to their fourth-consecutive winning season in his first at the helm. In 2017-18, Salva won the CCC regular season title before making a stellar postseason run that came up just short of its ultimate goal. In the past four seasons, Salve Regina is 65-35-10, with two trips to national tournament.
For his part in recording impressive numbers, Kidney led the Knights in scoring in his rookie season, notching 20 goals and 46 points in 48 total games. He followed that up in 2017-18 with 22-31-53 in 67 games played. A two-time NAHL Top Prospects participant, Kidney saved some of his best hockey for the 2018 Robertson Cup push, where he recorded three goals and three assists in 10 games. All totaled, the right-handed forward leaves Wilkes-Barre/Scranton as its all-time leading NAHL scorer with 42 goals and 99 points in 115 games.
"We drafted Matt Kidney understanding that we were getting a really skilled player," said Knights head coach Tom Kowal. "We had just come off our first season, looking to build a team that would compete for a Robertson Cup. Matt stepped in early and hit the ground running. He was a tone-setter for us. When he was rolling, we were playing some of our best hockey. He was a huge piece in our playoff run this past season, and I think that really showed what kind of player he's capable of being."
Kidney's choice to attend Salve Regina came from advice.
"I talked to Danny Eruzione a lot recently," Kidney said of his friend, a former New Jersey Titans forward. "He just kept saying 'Dude you have to come, you have to come.' I know he's a good guy and he'd be straight up with me and he told me 'This is the place to be.'"
With over 100 games played in the League of Opportunity, Kidney credits the NAHL for preparing him for the physical challenges college hockey is known for.
"From hearing a lot of opinions about DIII, it's a lot of bigger, older guys," he said. "My first year in the NAHL, it was a lot of bigger guys and that kind of prepared me and help me play a more physical game. I think this year it's really helped me a lot with the speed. I think it increased my speed-I know I got faster this year. I think going to school next year is going to be really good."
After enjoying a deep postseason run in his final year of junior hockey, Kidney wants to help put the Seahawks over the top, following their double-overtime loss in the 2017-18 National Championship.
"I think I come there to win each and every day," he said. "I feel like I proved that in this year's playoffs. Our playoff run was spectacular and wasn't really expected by most and not a lot of people saw it coming. I think I come with a winning attitude and a lot of hard work."
The Knights run to the Final Four of the Robertson Cup will forever stick with Kindey as one of his all-time favorite memories with the organization.
"It had to be," he said. "Your last year you go out to Minnesota, play in front of 200 scouts and play against some of the best players in the league. There's nothing better than that."
In parting with the Knights, Kidney was sure to thank those who helped him along the way.
"I gotta give thanks to my coaches, Tom Kowal and Andrew Whiteside and the Knights organization for giving me this opportunity," said Kidney. "Craig Doremus too. I've known him a long time, and he's always looked out for me over the years, and always was honest with me. And of course my family. I think my family played a big role in keeping me honest and supporting me."
"Matt will always be thought of as a player that helped move our organization in the direction we want it to go," said Kowal. "In our team's NAHL history, he holds a lot of our records. He's earned that with his talent and effort. I thank him for all he's contributed and wish him the best moving forward in hockey and life."